Three Rooms that Can Make or Break Your Self-Care Routine….
Do you know what they are?
Create Your Own
Harmonious Home™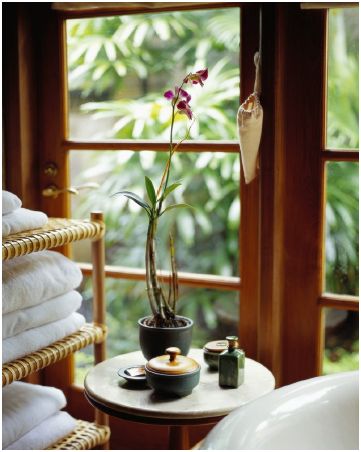 Wouldn't it be great to feel totally comfortable, welcomed and supported by your space?
And wouldn't it be great to have systems and routines in place so that you (and your family) can live more harmoniously together? It's possible!
When you come home at the end of the day, do you feel that you have arrived at an oasis? A sanctuary away from the outside world?
When I host parties or gatherings, people carry on about how comfortable and welcomed they feel in my home and say I should be an interior designer. They say that not only does it look good, but it feels good. This kind of harmony isn't just an accident. You have to decide you want it . . . and then you can to make it happen.
My home wasn't always warm and inviting. I used to dread having company because it meant chucking all the clutter into my spare bedroom, into the closets, and under the bed. But several years ago I turned all that around. I made a decision that I wanted to live a beautiful, harmonious life. Now people want to know how I do this. They want it for themselves. They want it like I wanted it. And that's why they'll be successful.
As I talk with people about creating harmony in their homes and in their lives, they have a lot of questions. Here are the main ones:
I'm not creative. Can I create a space like this too?
How can I find time to do this? I'm really busy.
Is it really all that important to create this kind of home environment? It's cool, but is it necessary?
Where do I start? How do I come up with good ideas?
How does this program make my life more harmonious?
How can I stay on top of everything – there's too much to do! I'm overwhelmed.
Are you wondering about these same kinds of things?
I'll give you answers to these questions and a whole lot more. I'll show you how to clean up, organize, and streamline the three most important rooms in your home: the bedroom, the bathroom, and the kitchen. When these three rooms are organized, everything in life goes better. You get better sleep, you have an easier time preparing food, and you'll be able to can get up and get out in the morning without the hassles of living a disorganized life. And that's just the start.
Why I Wrote the Harmonious Home™ Ebook
Here's a little quirk of mine. When I work in my home or out in the yard, I'm always thinking, "How can I teach this to other people?" As I work to create my own perfect eco system, I pay attention to what comes up for me – dread, lack of confidence, negative self-talk, overwhelm. And as I work through my own barriers (everyone has barriers), I gain clarity about how to pass on what I learn to others.
Living harmoniously just happens to be one of my gifts (now). And it can be one of yours.
When I work with clients and workshop participants to help them redesign their spaces, they really get it when I give them the simple tool of describing their ideal environment in two words. My two-word description is Beauty and Efficiency. Whenever I make decisions about my home environment, my options must pass the beauty-efficiency test. You'd be amazed how much difference that has made in designing my spaces. That tip alone will bring you 50% of the way to harmonious living once you understand how to apply it to your daily choices–and you will understand it.
I just finished a total house clean out. I went through every cabinet, closet, and drawer to clean out the excess, organize the remainder, and create streamlined processes. I took me about a month–including the basement (ugh!) I amazed myself. When I wanted to quit . . . my vision pulled me forward. I was like a bull dog on a pant leg. I'll show you how to do this too.
What You Will Learn
Your home is the starting place for everything that happens in your life. It's the foundation. It's the backbone of a regular healthy eating and fitness routine. It's at the heart of your rest and relaxation. It is your wellness environment – or could be. That's why we'll be focusing on the three most important rooms in your house: the kitchen, the bathroom, and the bedroom.
Learn how to . . .
Make an awesome Harmonious Home™ action plan – that will pull you forward when you want to chicken out
Troubleshoot (and solve!) problem areas in the bedroom, bathroom, and kitchen
Get rid of the excess – and find out where to take it!
Take consistent action each day – small steps will get you there!
Create organized zones in each room to streamline and simplify
Use inexpensive containers and other organizing tools to simplify storage and retrieval
Eliminate dread and procrastination
Use tricks to help you stick with it – even when you want to chicken out
Finish what you start!  Are you a finisher or a starter?  Neither?
Use microbursts when you don't have much time (or energy) to work
Streamline your daily routines and create pleasant rituals
One-Page project plan to post as a reminder and big picture tracking tool.
One-Page Take Action Plan – like having stepping stones to your goal.
So what do you think?  Ready for some harmony?
This ebook is NOT for you if . . .
You already have a Harmonious Home™ and could write this book.
You know exactly how to proceed to create your Harmonious Home™.
You're internally inspired beyond belief and have absolutely no resistance to getting started.
You don't really care about living in a harmonious space. You just don't get the appeal.
This ebook IS for you if . . .
You've read this far.
If you feel inspired and eager to have a more Harmonious Home™.
If you've been meaning to spiff up your house and just haven't done it yet!
Interested?
What would it be worth to you to be able to come home and feel really good about being home? To feel proud of yourself for taking action (finally)?  To have your home set up to enhance your self-care routines?
You too can create more harmony in your home and you can start right now with an instant download.  You can pay by credit card or PayPal.
Want to have a Harmonious Home?

Yes, Cheryl I want to have a Harmonious Home!

I'm ready to get started!


$27.00 – instant, secure download
Is it time to finally make a change and get on top of your household clutter?
To your harmonious living,


Cheryl Miller, Mayor of The Ville
Wellness Expert & Life Coach
P.S. If your self-care routine needs a jumpstart, this ebook is the thing!  It all starts with the environment…and you can create a harmonious living environment with this ebook.