What's in the FREE Wellness Pack?
What's in the FREE Wellness Pack?
Are you tired of trying to make improvements
in your lifestyle and not getting anywhere?
Get the free Wellness Pack. It contains everything you'll need to design a simple wellness lifestyle.
Your Wellness Pack includes…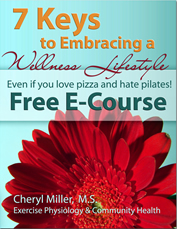 7 Keys to a Wellness Lifestyle (8-Part e-course)
Wellness Lifestyle Quiz
Top 10 Daily Self-Care Habits (poster/tracking sheet)
100 Wellness Actions (menu)
Healthy, Happy Living – monthly newsletter
Not only will you find out what a wellness lifestyle is, but you will also learn how to have one. After each lesson in the e-course, you'll be invited to take 1 small action step. By the final lesson, you'll have taken 8 important action steps on your journey to wellness.
IMPORTANT NOTE: Shortly, you will receive an email asking you to confirm your subscription. You must confirm that you want to receive this Wellness Pack–It's simple and requires just one click!
Get your FREE Wellness Pack Now!