What's in the FREE Wellness Pack?
If you're tired of trying to make improvements in your life and not getting anywhere . . . .
. . . . Get the Wellness Pack. It contains everything you need to design a simple wellness lifestyle
Your Wellness Pack includes…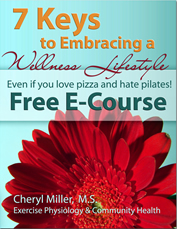 7 Keys to a Wellness Lifestyle (8-Part e-course)
Wellness Lifestyle Quiz
Top 10 Daily Self-Care Habits (poster/tracking sheet)
100 Wellness Actions (menu)
Healthy, Happy Living – monthly newsletter
Not only will you find out what a wellness lifestyle is, but you'll also learn how to have one. After each lesson in the e-course, you'll be guided to take one small action step to enhance your wellness. By the final lesson, you'll have taken 8 important action steps on your journey to wellness.
Get your FREE Wellness Pack Now!  You'll love this simple wellness road map.