…Follow the Healthy Habits Roadmap to Success

I don't like to spend a lot of time on negative feelings, but sometimes we need to focus on what's not going well so we can do something about it.
Are you willing to let another year go by without your life being different . . . better? 
Pause for a moment to think about all the things you said you wanted to do last year (even last week) that you just never got done.  What important goals sat on your to-do list last year?  Are you worried you won't find the inspiration and the energy to get them done this year?  You may be wondering if this year is going to be any different (better) from last year.
Are you afraid you won't succeed with your health and well-being goals?
One of the biggest reasons I'm talking to you right now is that I don't want another year to go by without helping you achieve your goals.  I know I can help you and I know you can succeed.  But not if you rely on a New Year's Resolution.
Why Resolutions Don't Work for 99% of Us
Year after year with hope in our hearts, we set New Year's Resolutions to lose weight, get fit, declutter and get organized.  But resolutions just don't work!  Have they ever worked for you?  They haven't for me.  Why?  Because our resolutions are built around what we think we should do—we feel cultural pressure to look a certain way, be a certain kind of person, and do things a certain way.  And it doesn't feel very good.  We try, try and try again, but never feel successful.  And it isn't fun.
Forget resolutions, I have a better way…
Determined to reach our goals–even though we "fail" year after year–we rinse and repeat thinking there isn't a better way. . . . but there is a better way.  To be successful, we need to build our goals around what we truly want, not what we think we should want.  And it helps if our goals are holistic and incorporate several dimensions of wellness (emotional, spiritual, intellectual, physical, environmental, etc.).
In my New Year's Evolution teleclass I showed you how to develop a health or lifestyle theme for 2012 that is so powerful and holistic that it pulls you forward . . . unlike a resolution that makes you push (and push hard) to make it a reality. If you missed that teleclass, don't worry because the handouts and audio are available (more about this in a minute).
Here are a few examples of themes that can excite and inspire us to action…when we find just the right theme.

Heart's Desire
Bloom Where You're Planted
Younger Next Year
Hello Gorgeous!
Waking Up, Powering Up!
Unleash the Magic in Your Life!
Healthy, Wealthy & Wise
It's My Turn
Open the Gate
A Life of My Own
I am Grateful
Life is Sweet
Stay Strong, Live Long
Unstoppable!
Neat and Tidy Life!
Now I want to show you how develop and implement a plan that you truly want to follow because it's built around your cherished theme.  It's built around what you really want, not what you think you should want.  You and I both know, there's a big difference between should and want.
Here's a proven way to get what you want….
New Year's Evolution
30-Day Coaching Intensive

Healthy Habits Roadmap to Success

Wednesdays, February 8, 15, 22, 29 (5-6:30pm PST | 6-7:30pm MST | 7-8:30pm CST | 8-9:30pm EST)

Bonus call Wed, Feb, 1 (5-6:30pm PST | 6-7:30pm MST | 7-8:30pm CST | 8-9:30pm EST)

For details about the Live in Lawrence Workshops, contact Cheryl.
Over the past decade, I've coached hundreds of people in the New Year's Evolution process.  This year I added a powerful new coaching component that provides the quantum leap we often need when we're trying to do big things in our lives.
Your success starts with getting clear on what you want (your personal theme). And it continues when you have a simple plan (and support) in place for getting what you want.  These are the cornerstones of the coaching intensive program.  And there's more…
In this 30-day journey with me, you will:
Get clear on the health or well-being goal or theme you want to put in place (I'll coach you personally on this in a bonus call)
Learn strategies to overcome inertia and get started reaching your goal
Take small, consistent steps to build on your success and ultimate goal achievement
Improve your confidence to take action and succeed
Learn new lifestyle behavior skills that you can use again and again
Get support if you slip, trip, or fall
Learn tools to track your success and make it visual
Set up a reward system for taking action
Set up wellness environments to make your new well-being or lifestyle habit sustainable—even permanent
Set up a daily healthy habits routine so you can continue to reach your future wellness lifestyle goals – long after the program is over
The New Year's Evolution Coaching Intensive helps you make important health and well-being behavior changes from getting clear on what you want and giving it a compelling name (your theme) to taking daily action and overcoming obstacles and resistance.
I'll be your personal coach for 30 days.  And you'll be in the company of kindred spirits working right alongside you. I'll show you exactly how to create and implement your 2012 plan for what you want to achieve—not what I want, but what you want.
I've attended every one of Cheryl's classes and they're all so good, it's hard to pick a favorite.  But if I absolutely had to, at the top of the list would certainly be her New Year's Evolution program. I use the program to help me get focused, get empowered around my annual theme, and meet people who want to do the same.

Cheryl's unique abilities are to make everyone feel like they're getting individual attention and to help you cut through your mind clutter and focus on what will make your year nothing short of spectacular—and the program is painless and fun.

If you're wondering whether you should take the program, know that people who are interested in having a successful year do what's convenient.  People who are committed to having a successful year do whatever it takes.  Enroll in this program!

Lena West, Social Media Marketing Mentor, InfluenceExpansion.com
What Does the New Year's Evolution Coaching Intensive Program consist of?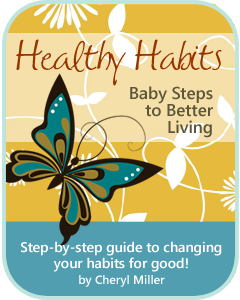 An 85-page Healthy Habits workbook ($19.97 value) is included in the program.  The workbook walks you through the daily action steps needed to successfully put your goal in place.  Every day you are guided to take a bite-sized action step.  The Healthy Habits workbook…
• Helps you follow through on what you say you want to do
• Helps you stay inspired and moving forward
• Provides a specific plan so you can relax knowing you've got clear directions, inspiration, and clear action steps leading to your success
Weekly Teleclasses (4 classes and 1 bonus call to develop your 2012 theme)
In this program, you're part of a supportive environment with me as your coach and a group of kindred spirits so you never feel alone or lost.  We're on the journey together.
These calls feel good too—they're a shot in the arm.
You can stay focused and on track.  Checking in with the group every week strengthens accountability.
You're guided by an experienced wellness strategist and coach so the information provided is clear, inspiring, proven, and appropriate.
Not only do you learn "what" to do, you learn "how" to do it and do it successfully.
You will also receive the notes and audio from the New Year's Evolution teleclass where participants learned how to develop an inspiring personal theme for 2012 in case you missed it.
And all sessions are recorded in case you have to miss one or want to listen again.
Bonus #1:
Throughout the program, you have direct access to me and my wellness expertise. During the coaching portion of the calls, you can ask me anything you'd like about health and wellness including the following….
How to design your plan
How to best use the workbook to make your plan easier to implement
How to eliminate any blocks or sticking points you may have
In fact, you can ask me just about anything!
Normally coaches don't make themselves this accessible without adding substantially to the price.  This additional support is very important for me to give because I want you to be successful, almost as much as you want to be successful.  And I don't want cost to be a barrier.
Bonus #2:
I'm offering a special coaching call for anyone who wants help selecting or phrasing their 2012 themebecause the theme serves as the backbone of the action plan we put in place during the 30-day program.  Together we should be able to craft a theme that gets you so excited you want to start taking action right away.
One of my coaching clients used the Healthy Habits workbook throughout our coaching to help stay focused on her big theme and related goals.  She chose one goal a month then moved to the next goal using the daily actions in the workbook to keep her on track.  A year later she's still using the workbook to achieve her goals and live her life theme in a big way.   Here are a few words from her…
Part of having a big idea or goal is getting comfortable with thinking big, but then you also have to be able to take action every day.  The Healthy Habits workbook provided a wonderful balance so I didn't get overwhelmed by the big thinking or lost in the day to day actions.

You may have been dreaming forever and may not have given yourself permission to see your dream.  You may not feel ready to take the leap, but now is the right time.  It's time to have a process and methodology where you can make your dreams happen instead of having them drifting around you.  You're worth it!

As a giving person the objectives I set for myself sometimes get back burnered.  Having a commitment to work with Cheryl was a good way to make myself a top priority instead of putting my projects last after taking care of everyone else.  The accountability piece was big for me.

I recommend you do this process with Cheryl.  I love that there's no judgment when working with Cheryl.  She has an amazing ear and is a warm, attentive listener.   She'll help you see patterns and reflect back like a mirror connections you may miss yourself.

Brooke Feder, Joyful Spirit, ShoutYourJoy.com
Are you ready to commit to your success in 2012?
Do you want to be part of the
New Year's Evolution Coaching Intensive?

Yes, I want to sign-up for only $97 while this discounted fee lasts!

I'm ready to get started and I understand
I'm fully protected by your 100% guarantee.

I understand that for the special discounted fee of $97 (1/4 of my monthly coaching fee), I get all of this:

Healthy Habits:  Baby Steps to Better Living (e-workbook–$19.97 value)
4-week telecourse (Wednesdays, February 8, 15, 22, 29):   New Year's Evolution Coaching Intensive
mp3 audio recordings of weekly teleclasses (in case I have to miss one or want to listen again)
mp3 audio recording and notes from New Year's Evolution preview call.
2 Bonuses: Coaching call on my 2012 theme (Wednesday, February 1) and direct access to Cheryl during the program.

Learn how to eliminate obstacles that have always held you back from reaching your cherished goals – now offered at an unusually affordable price.  I don't want money to be a barrier to your success when I can afford to be generous.

Pay in full:

If money is the only thing stopping you from joining this program, click here for a more flexible payment option.

Contact me if you prefer to pay by check.

For details about the Live in Lawrence Workshops, contact Cheryl.

And you have my 100% guarantee

I personally guarantee if you make a diligent effort to learn—and work—the New Year's Evolution process, you'll be successful in putting your heart's desire into place so that you can once and for all achieve success in 2012.  Along with your New Year's Evolution friends, you'll make progress that you never would have seen without this program. If you don't feel the program was delivered as promised, I'll refund the entire cost of the program to you.
Here's to evolving in 2012!

Cheryl Miller, Mayor of The Ville
Wellness Strategist & Life Coach
P.S.  Coming into your own life and making the necessary changes takes focus and committed effort.  This coaching intensive program will make it easier and more fun to stay on track.  I hope you'll join me!
P.P.S. Like an ice sculpture this offer will be gone soon.  Make 2012 a year of power and action!
Pay in full:
If you need a payment plan, click here.  Or if you want to pay by check, click here.  For details about the Live in Lawrence Workshops, contact Cheryl.