Posted by Cheryl Miller on Sep 22nd, 2010 | Leave a comment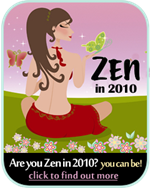 NEW 4-WEEK TELECLASS SERIES
How would you like to finally conquer clutter…and even have some fun with it!
If you have better things to do than push clutter around for the rest of your life, you may be interested in my new teleclass series.  It's called Zen in 2010: How to Get Things Done to Increase the Hum in Your Life.  It's a tight little package with everything you need to get on the Zen path to living clutter free.
The series will include my 4-Step Zen Process to tackle any cluttered or disorganized spaces.  You will also be invited to participate in discussions, self-reflection exercises, and whatever else it takes to help you be successful. The four weekly topics cover the most critical topics: indoor spaces, outdoor spaces, nooks & crannies, and all things paper.
You can will also participate in several "Zen Days and Nights" if you need help getting off the dime and getting things done (and who doesn't need help with that!) Find out what these cool calls are about and how they can help you be more Zen in 2010: www.cherylmillerville.com/zen
And check out the bonuses you get when you sign up to participate including the popular Harmonious Home ebook. This ebook takes you step by step through decluttering your bedroom, kitchen, and bathroom so you can live more harmoniously and succeed with your personal self-care goals. This ebook alone will take you half way to being more Zen in 2010. The class experiences will take you the rest of the way. The program is designed to fully support you (oh yeah, and make it fun!) as you take steps to increase the hum (Zen) in your life.
You don't have to be a task master to be successful in this program.  You just need to keep taking steps closer to your ideal life and I'll help you with that in any way that I can.   I'm there for you for four full "Zen" weeks. When you start now (actually October 14), you won't have to put conquering clutter on your 2011 New Year's Resolution list because you'll already be on the path. The program is designed to make sure of that. Get the full scoop here: http://www.cherylmillerville.com/zen/
FREE Teleclass:  How to be More Zen in 2010:  Description and registration click here
This class is free, but it won't be cheesy – it'll be loaded with content, experiential experiences
and mind shifting exercises.  It's happening Thursday, September 30 at (5pm PT, 6pm MT, 7pm CT, 8pm ET).  Even if you're busy, show yourself some love and carve out time to participate.  Would love to have you join me.  Info and registration here:  http://www.cherylmillerville.com/zen/teleclass-registration  Let your packrat, paper hound, procrastinating friends know about it too—I say this lovingly because I have been one and am still have shades of the three P's.  Everyone is invited. 
Print This Post
|
Leave a Reply