Posted by Cheryl Miller on Aug 28th, 2011 | 6 comments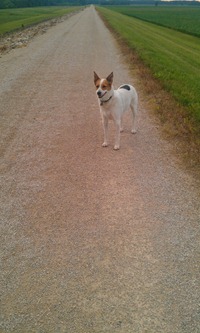 I have walked my dogs on the levee of the Kaw River most every day for years (and years).  This section of the levee is outside of town in the country, quiet, and quite lovely as you can see in the photo.  Trees flank the levee on one side and corn fields stretch to the horizon on the other.   Dragonflies, swallows, blue heron, night hawks, eagles, migrating birds, vultures, deer, toads, frogs, snakes, and other wildlife make it extra interesting.  Toby chases and hunts while I decompress, relax, and commune with all that is. 
Recently, I found myself turning around to head back before my usual sign marker.  Granted it was during our "bake an egg on the pavement" heat wave, but still it was a sign that I'd gotten bored with the route and needed to shake it up.  How could I get bored with that beautiful stretch of nature?  It happens.
I know of many places to walk, but this one is convenient and efficient, and my busy life welcomes efficiency.  And so does Toby because he doesn't have to be leashed and he's sure of a walk, no matter what.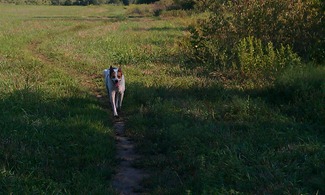 But enough of a good thing.  Today we went to the off leash park near Lake Clinton.  It's some distance across town, but I'm going to build it into my mix as a special treat.  Now that I'm thinking outside the box, I've got a short list of other ideal walking locations.  Feels good.
Before walking today I followed Qigong master Chunyi Lin's recommendation to bring awareness to my movement with this statement:  "On my walk, all my channels are going to become clearer, I will open my heart to nature, and by the time I'm finished, my energy will be much stronger."  I wrote this on an index card and will keep it in my car to reference until I no longer need the reminder.
What habitual routines are you growing tired of?  Same sack lunch?  Same evening prayer?  Same meditation routine?  What daily routine could you shake up a bit to make it more plump, like fluffing a feather pillow?  Please comment at the link below.
Print This Post
|
6 Responses
Leave a Reply