Posted by Cheryl Miller on Mar 15th, 2012 | 12 comments

During the Whole House Detox program there is at least one big rule:  expect the unexpected–expect delays, expect side tracks, and, thankfully, expect that sometimes things will be easier than you expected.

Case in point.  I didn't expect to post so late in the day today.  But there was a technical glitch with the before and after pictures on my phone–they were gone!  After searching the HTC Inspire forum, I found the solution so was able to recover them.  Guess my phone isn't so smart after all!

Click on the pictures to see a larger version.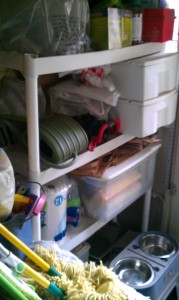 It wasn't very sexy but I started my Whole House Detox with the back porch.  It seemed like a good place to start because it's small and because Sylvia said to start there.  Remember she's my 5 year old decider.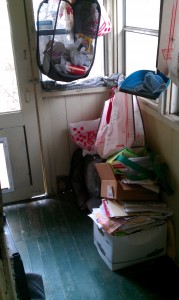 I thought it would be a quick, though dirty win.  It was dirty alight, but it wasn't quick.  Right before I started cleaning it out I adopted a rescue Chihuahua and attended the first retreat of a year-long Reiki training program I had signed up for long before I heard of this adorable creature.   So the big rule I just mentioned—expect the unexpected—was in effect from day one with this project.  I worked on this tiny room across several days.  I had estimated it would take half a day.
Here's how I approached the back porch cleanout.  It's a tiny space so it can't hold that much stuff.  But as you'll see from the pictures, it DID hold a lot of stuff and was therefore hard to clean and organize.  My habit was to just open the door, deposit things in there, and close the door.  I put that ugly little room out of my mind because it worked for the most part.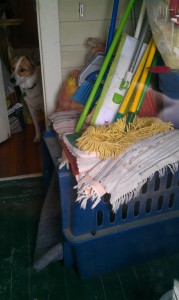 As I studied the room, I noted that it has basically three purposes:  to house Toby's kennel and food, provide a home for my recycling, and serve as storage for kitchen items I need infrequently.
Further study made these trouble spots obvious:  I stored various fluids in there but every summer they'd get too hot and every winter they'd get too cold—I'd scramble to move them into the house so they wouldn't bake or freeze.  What a pain.  It's amazing what you can figure out when you just stop, look, and think.  So I took all fluids out and put them in the basement.  Why didn't I think of that before!
There were also a bunch of odds and ends in that tiny space that really should have been stored with tools or garden supplies.  Bottom line:  all this excess belonged somewhere else and it had to go.
Here's the 8-step process I used to declutter and organize my back porch.  This process will work for any area you want to declutter, clean, and organize:
Take a breath and open the door, drawer, closet, etc.  It's not so tough to open the door, so start there….it creates momentum.
Pull up a chair and do a little assessment.  Think about how you use that space, the purpose of the space, what needs to be in that space so you can easily use it, etc.
Roll up your sleeves and take everything out (this usually creates a big mess in your other spaces).  This step is essential because it creates a "clean canvas" that invites more open, flexible thinking.  It's easier to visualize something different when the space is empty.  I'm not really saying to take everything out of your living room, for example.  That would be a lot of work.  This process is for smaller spaces.
Thoroughly clean the space.
Decide what must go back into that space (you need it, you love it, you use it, you've determined that this IS the right place for it).  Don't just put it back in because it fits or because you don't want to have to figure something else out.
Next, take a look at all the rest of the stuff that's left that shouldn't be going back into the space.  Quite a pile isn't there!
Put those things where they really belong.
Take any excess to places like the Salvation Army, Goodwill, or church thrift stores. 
Time Saving Tip:  You'll be tempted to take things to a consignment shop or sell them on Craig's list, but I have found those options to be time consuming and result very little monetary gain.  If you have more time than money, go for it.  But if you have a little more money than time, give the excess away.  It's amazingly fast to complete a project when you take the excess immediately to Goodwill.  The faster you get it out of your house, the less likely you are to "find another use for it" and keep it.
During this process, you may be tempted to get judgmental and criticize yourself:  Man, this back porch is so dirty….look at all that dog hair.  What kind of a life manager am I!!  Etc., etc.  But so what.  Keep moving.  Tell the voices in your head to take a leap because you're pushing forward.  And then just keep moving.  If you were a lazy person, you wouldn't be taking action now, so there!
By now you've noticed that my back porch isn't attractive.  It's clean and organized now, but it's not a place I'll show people when they come over.  Real Simple isn't always real simple.  You know the magazine that makes everything look beautiful–even under the sink.  Well, some places just don't look that great—they're clean and organized and that's the goal.  You can upgrade at another time.  For now, just get it clean and organized.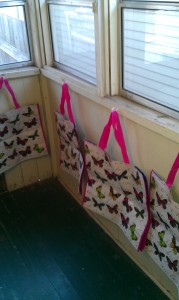 I upgraded a little with the TJMax butterfly bags I use for recycling.  They looked cooler than the yucky plastic bags I was using.  Notice I hung them on hooks several inches above the floor so I can easily sweep all that dirty dog hair out.
Cleaning tip:  Try to keep the floors clear of clutter.  We're more likely to clean something when it's easy and we don't have to move a lot of stuff to "get at it."
More "After" pictures… (click to see large version)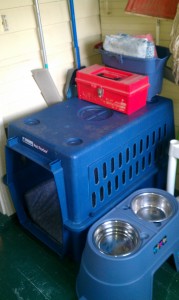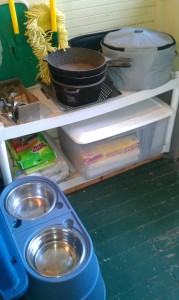 Comments Please:
Do you have an ugly place that needs to be cleaned out?  Want to get started?  Tell us about it at the comment link below!  If you don't have any ugly places in your home, I'm eager to hear your story too.
Print This Post
|
12 Responses
Leave a Reply