Posted by Cheryl Miller on Jun 8th, 2012 | 5 comments

I'm finally decluttering and organizing my kitchen.  Click the images to see them up close and personal.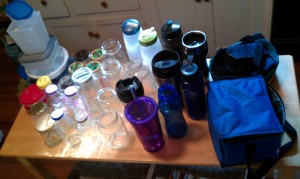 I've only just begun, but look at what I've already gotten rid of from just two cabinets.  It's clear what I have attachments to – lunch sacks (3) stainless steel coffee mugs (4), and glass and plastic food containers (infinite)!  I'm recycling, regifting, and adding this stuff to a pile for a possible garage sale this summer.  A friend of mine is cleaning out her basement in July – says it will change her life.  So I'm going to buddy up with her and clean mine out as well (oh the horrors).
My main goal with the Whole House Detox project is to clear out space.  Even if things are neat, unnecessary items take up space and, in my case, drain my energy.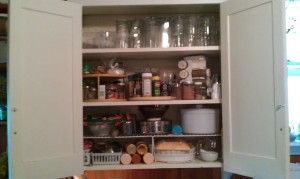 Case in point.  Here's an organized cabinet….with just too much stuff in it.  It's going to look really different once I get finished with it!  That cabinet is going to feature my spices – they will be so easy to access.  Watch me!
I didn't always know how to let go of perfectly good things.  My friend Brenda taught me.  I'll share some of what I learned from her as we go along.
But for now, woohoo!  I love the empty spaces in my cabinets already.  Anybody want to join me?
Print This Post
|
5 Responses
Leave a Reply