Posted by Cheryl Miller on Mar 22nd, 2012 | 4 comments

What does a garden have to do with a Whole House Detox?  Good question.  Let me make something up….  Ah, yes, a garden is part of the yard and the yard needs to be spiffed up along with the house.  A garden is also a part of detoxing my diet so I don't have to eat vegetables sprayed with chemicals.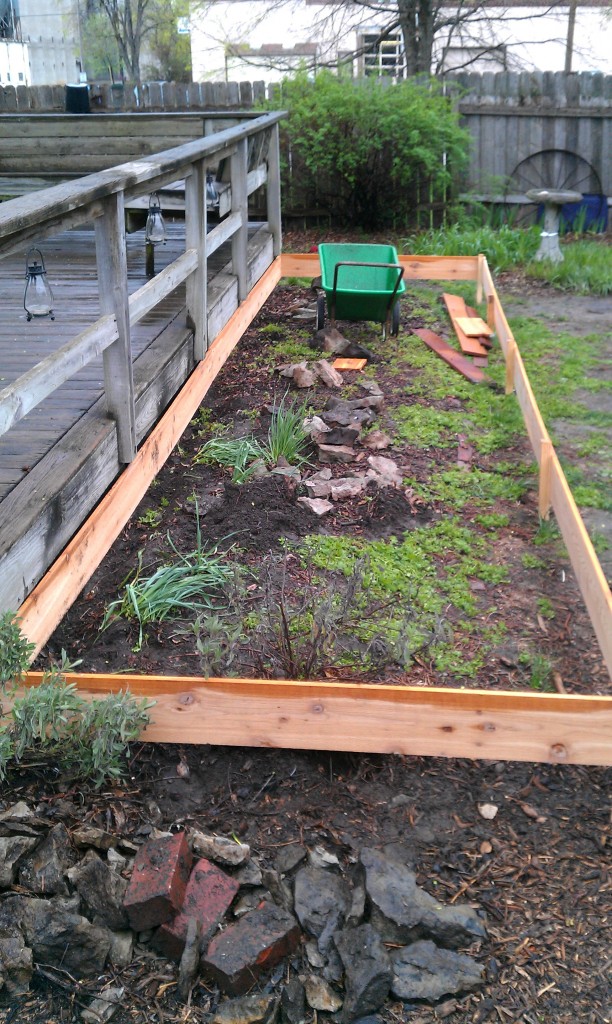 After cleaning up the back porch I decided to work on paperwork so I can get my taxes prepared.   I was working away and then spring happened!  Our weather is unusually warm so it's time to get the garden ready.  One of my lovely subscribers informed me that our city is giving away compost tomorrow so I quickly had to shift gears to get a raised bed up and ready to accept the new soil.  The first garden handiman fell through so I went to Home Depot, selected the lumber and other needed materials and drove home wondering….now what?
I called my regular handiman with my fingers crossed that he could help at the last minute.  He sent over a couple of guys that had the raised bed in place in about an hour.  How's that for right timing?  Everything is coming together so well.
And tomorrow Nora (my yard helper) and I are going to drive the borrowed truck to pick up compost and mix it into the soil.  As you can see from the stones, bricks, and weeds, there will be some work to do to get everything in place.
Then because the yard is an important part of the detox project, we'll weed and whack and wake up the yard after its winter slumber.  The paperwork will have to wait….but it can't wait too long because I need to have everything to the tax woman by April 2.
It takes a village to take care of a home.  And thankfully I have that village in place.  Over the years I have developed great relationships with people who help me live in this wonderful little bungalow–a handiman, weeder, plumber, painter, and electrician.  People are the best!  I don't know what I'd do without people.
Print This Post
|
4 Responses
Leave a Reply