Posted by Cheryl Miller on Jan 12th, 2009 | 1 comment
While at a local coffee shop with friends, we interviewed each other about our Wild Wellness action.  Here's one they recorded of me describing Cheryl's Wellness Soup (50 seconds).
[youtube]http://www.youtube.com/watch?v=Cjyf3Tz1PEY[/youtube]
Now here's a recipe for my Wellness Soup.   If you're thinking about being healthier and losing weight, this soup will serve you well!
I love to make soup without a recipe.  I call it intuitive cooking.  Here's a great soup I just made and ate – two bowls!  It was particularly satisfying and yummy–that's why I'm calling it Wellness Soup.
If you don't have all of the ingredients, feel free to substitute wildly.  I did not measure anything when I made this soup, but I've tried to give you approximate measurements.
Use your intuition (and what you have on hand) to select ingredients that will provide you with optimal wellness–that means it must be soothing, satisfying, and tasty!
CHERYL'S WELLNESS SOUP
Medium sized soup pot
Saute in 2 TBS olive oil (3-4 minutes – onion will look semi transparent)
*2 cloves of garlic
*1 whole onion – sliced or diced
*Portabella mushrooms – sliced or diced
Add broth (I used a 1 quart box of Imagine Organic, Free Range Chicken Broth).  Add an additional couple of cups of water.
Chop vegetables roughly and add to the soup pot (medium to medium high heat):
*Celery – 2 -3 stalks
*Carrots – 2 carrots or a handful of baby carrots – chopped
*Small head of Bok Choy (or other greens like spinach)
*1 zucchini (or summer squash)
*1 can black eyed peas (or other bean)
Cook for 20 minutes or so on medium heat.  The veggies will be soft but not soggy.
You can make a strictly veggie version of this soup or add some spicy Italian sausage.
BTW – some people say that eating black eyed peas and greens makes for a healthy, prosperous new year.
Let me know how you like it!  I'm still smiling and satisfied.
Say, maybe you'd be interested in knowing about Cheryl's Soup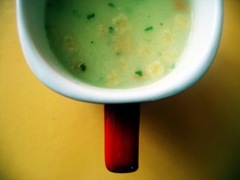 Kitchen.  I loved creating this program.  It's two audios and an ebook.  We just revamped the web site – check it out here!
In Cheryl's Soup Kitchen, not only do you get fabulous soup and side dish recipes, but you also learn exactly how to streamline your kitchen, keep a kitchen journal, plan meals and efficiently prepare foods–soups and side dishes in particular.  You get shopping lists, food pantry suggestions, and tons of suggestions for improving your efficiency so you don't have to spend so much time in the kitchen.
Find out all my soup secrets here.
Stay warm!
P.S. This post inspired Lena West to make her own version of this Wellness Soup. Listen in here.
Print This Post
|
One Response
Leave a Reply