Posted by Cheryl Miller on May 4th, 2011 | Leave a comment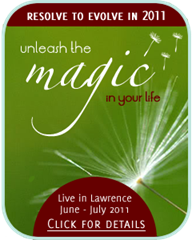 LIVE IN LAWRENCE, KANSAS!
UNLEASH THE MAGIC IN YOUR LIFE
June 1 – July 20, 2011
8 Consecutive Wednesdays
7:00 – 8:30 pm
Unity Church of Lawrence (sanctuary)
900 Madeline, Lawrence
A Transformational Workshop
Are you ready to discard old stories about who you are, what you do, and what you believe in?  Find out how you can replace old, worn out ideas, beliefs, and habits through magical, mini transformations. 
Unleash the Magic is an interactive workshop led by Cheryl Miller, Wellness Strategist, Life Coach & Mayor of CherylMillerVille (a thriving, online community of 6,000 subscribers).
Using Cheryl's unique "LIFE in your LAP" Active Journaling Process, you will be guided through a series of self-reflective, inner exercises to help you Unleash the Magic in these 8 areas of your life:
1. Money
2. Time
3. Spirit
4. Food
5. Fitness
6. Space (car, home, office)
7. Personal Growth
8. Self-Care
Learn how to design your own magical life and experience opportunities for removing blocks through music, dreams, belief exploration, Emotional Freedom Technique (EFT), energy healing, guided meditation and visualization, Haiku, and more!
PLUS! Special guests will lend their magical gifts to our journey every week
· Carla Mumma, EFT practitioner
· Vi Hamilton, Energy Healer
To learn more about this unique program and to register, visit: www.CherylMillerVille.com/magic
We hope you'll join us!
-Cheryl
Print This Post
|
Leave a Reply