Posted by Cheryl Miller on Jun 6th, 2011 | 1 comment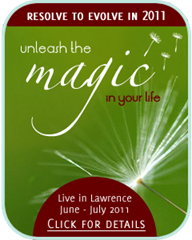 Last Wednesday we launched the 8-week program Unleash the Magic (live in Lawrence) and the first topic was Time.  So this week I was thinking about time and how I use it. I woke up Saturday morning feeling overwhelmed by the many things I had to do and the lack of interest and energy I had for starting on my mental list. Ugh was my total body feeling. My arms even hung limp at my sides like that of a teenager who has been asked to clean the kitty litter.
Turning to my journal for inspiration, I got excited and started sweeping my deck, then clipping the spent roses from my knockout bush (100 or so), cleaning the gutters, putting in two window air conditioners, brushing my shedding dog, clipping his toe nails, taking us on a walk, cleaning under the kitchen sink (oh man it was needing it), mopping the kitchen floor, and that's just for starters.  I went like that for two days like a house afire.
As I cleaned and moved through my list, I thought about why my energy and enthusiasm was working so well for me….after it had felt so heavy and unappealing when I woke up Saturday morning.
Now this is what I want to share……In the midst of my struggle, I went to my journal for clarity and inspiration—for help. When I took the first step to take action, I was rewarded by a feeling of relief that I actually could trust myself to take care of business, to do what I said I was going to do, to manage the affairs of my life. I felt better and better about myself as the weekend progressed.
What I also noticed is that I said only positive things to myself about myself and about my tasks. I looked just at what I was working on instead of wringing my hands  over all that I had to do. It was magical really and not something I always do – that's why I paid so much attention to what was working and why.  I wanted to repeat my success and share it with you. Positive self talk, taking action (baby steps when that's all you can do), and writing in your journal – that's a combo that will help to unleash the magic that's already in you….and in me. 
What do you do for inspiration when you're feeling overwhelmed and stuck?  Share at the comment link below.
If you live in Lawrence, KS and this program sounds of interest to you, it's not too late to join the series.  This coming Wednesday we start session 2 with discussion, journaling, EFT, and energy healing around MONEY.  Don't you love to talk about money!  Here a link for more information.
Print This Post
|
One Response
Leave a Reply