Posted by Cheryl Miller on Apr 25th, 2009 | 5 comments
Do you have difficulty remembering the difference between a tornado watch and a warning?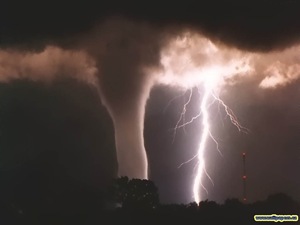 I do. Even when I try really hard to remember!
We were just under a tornado warning in Kansas this evening so I had a chance to remember again what the difference is. A warning means that a tornado has been spotted or it is highly likely as determined by radar. So it could be serious.
The sirens went off, the skies looked ominous, and it felt like something was trying to happen.
I closed my windows and packed up the following things to take to the basement:
Purse with ID, credit card, etc.
House keys
Day planner
Cell phone
Regular phone
Battery operated radio
Life/work planning notebooks
Glass of water
Laptop
Dog bed and bowl of water for Toby
Toby (the 60 pound Jack Russell terrier look alike)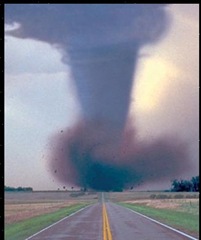 I have one of those "icky" basements that you try not to spend time in – dashing in and out to do laundry, getting tools, or sitting in a lounge chair waiting for the all-clear signal. Thankfully warnings last only 30-45 minutes.
My Emergency Kit
I also took my Emergency Kit to the basement – that's a permanent kit (clear plastic file box with a handle) that contains a bottle of water, candle, butane lighter, weather radio with batteries, flash light with batteries, and a thermal blanket. I'm always thankful that I have it…and that I've never had to use it.
Imagine….if your house blew away, what would you need? What would you critically need, that is? You might not need your lipstick or your sports magazine. But then again…
I hollered into my neighbor's open window…"Do you know we're under a tornado warning?" They said yes, thanks, they were trying to ignore it. I think they have an icky old-house basement too!
I'm always tempted to ignore the warnings, but I've created an emergency system that I can get together really quickly if I need to. So the barriers to leaving my cozy upstairs to go to the basement are minimized. Do you have such a system?
Print This Post
|
5 Responses
Leave a Reply