Posted by Cheryl Miller on Apr 26th, 2009 | Leave a comment
I'm glad I went to the basement during yesterday's tornado warning.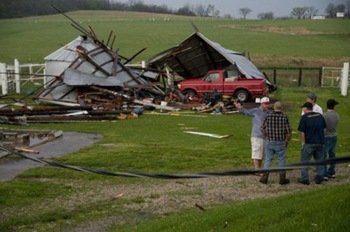 I noticed the flag was half mast this morning so I went online to check the news in the local paper.  One man from here died in that storm and there was considerable damage in some areas.
It was quite a storm.  Here are some amazing photos captured by individuals out and about.  And here are some more. We think we're powerful, but we our power pales by comparison to nature.
Print This Post
|
Leave a Reply