Posted by Cheryl Miller on Jun 3rd, 2009 | 2 comments
Actually, my favorite fitness book ever isn't purely a fitness book because it contains chapters on nutrition, staying connected, and menopause. I've been on the fence about instituting a more serious fitness regime and this book knocked me off the fence. I couldn't put it down–a real page turner.
When I finish it, I'm going to start on page 1 again–I like it that much! You have to know that I actively dislike reading a book more than once–there are too many good books out there to waste time reading the same one again…until this book!
So what's the book?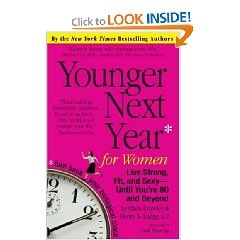 It's ……. drum roll ……. Younger Next Year for Women. I mentioned it to my 88 year old mother (the one who just had a stroke) and she said "Oh yes, I have that book somewhere. I liked the title." She's an avid reader, but when it comes to fitness, she just likes to read about it. I inherited a bit of her tendency to prefer reading over taking action. But I fight it on a regular basis and often win. This book is lifting me out of the fitness slump I was in for the past decade.
There's another version for men too. You can buy either one at Amazon.com for about $6 plus shipping. I highly recommend that you buy one for yourself, your family members, and all your friends.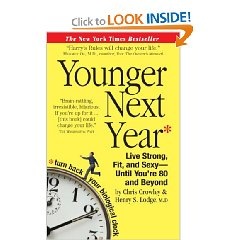 So what do I like so much about this book? As an exercise physiologist, I love the science behind their writing. One of the authors, Henry Lodge, is an MD and an exceptional writer. He takes plain, complicated science and makes it interesting and highly motivating. You can't wait to get out there and saddle up on a bike, hoist some heavy weights or join a yoga class.
Just when you think you've read enough science, Chris Crowley, a fun loving, irreverent fitness enthusiast in his 70's takes over and writes the next chapter. He pokes you in the ribs about your sloth and makes fun of himself as well. You can take the ribbing because it's clear that he's a good guy. And if you're like me, you'll laugh out loud at regular intervals. At some point I started making smiley faces in the margins when he made me laugh. I should probably count them just for fun.
I designed my current fitness program around the principles outlined in this book. I'll share more about this book in future posts. Now it's time for me to hit the hay and read another chapter of this fabulous book.
Your Turn: Have you heard of this book? Do you have a fitness book to recommend? If so, tell us what you like so much about the book. Comment at the link below.
Print This Post
|
2 Responses
Leave a Reply