Posted by Cheryl Miller on Nov 14th, 2011 | Leave a comment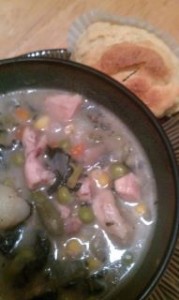 I have made a different kind of soup twice a week for the past 6 weeks and I never get tired of it.  That is, I don't get tired of making it, and I don't get tired of eating it.  I make enough for about 4 servings–sometimes 6 servings.
Soup is one of the easiest (and fastest) things to make.  In my basic recipe I start by sauteeing onions and garic.  Next I add a box of broth, toss in some veggies and meat or other protein.  In a quick 30 minutes you have dinne!  It's so much faster than driving to McDonalds or any other restaurant.
You can add any veggies you like (fresh or frozen).  I highly recommend that you use up whatever's in your refrigerator (or freezer).  When the carrots and celery start to wilt, make a pot of soup.  Carrots, celery and onions are considered the soup trio (they make any soup taste great).  They also make a great broth if you want to boil 'em up before they get too limp to salvage.
Here's a "recipe" for the Chicken Veggie Stew I made for dinner tonight.  It was done in 30 minutes….and so was the cornbread.
Sautee a whole onion (chopped) (Note:  I sauteed it in a small amount of the chicken broth)
Add a box of broth (chicken or vegetable)
Add a small potato or two (I peel them if they get a green tinge and dice them in large chunks)
Add a bag of frozen veggies (mine included carrots, green beans, peas, and corn)
Rough chop some greens (I used curly kale)
For Variety
I've made so many brothy soups recently I wanted this one to seem different so I thickened it a bit to make it more like a stew.  To thicken the broth, use a small jar with a tight fitting lid.  Add about 1/2 – 3/4 cup liquid (broth, water, or milk, etc.) and about two tablespoons of flour or corn starch (I used whole wheat pastry flour because that's what I had on hand).  Shake the jar to fully mix the flour and water and pour it into the bubbling soup.  Let it cook another 5 minutes or so. 
That's just one kind of soup.  Change up the protein and veggies to make endless modifications.
Bonuses:  Your house will smell fantastic as this cooks, you'll use up produce in your fridge, you'll eat a light but satisfying meal, and you'll be loaded to the brim with nutrients to help you stay healthy.  Not only is soup incredibly fast to make, but it's incredibly satisfying and nutrient dense.  It's also great for weight loss. 
Cheryl's Soup Kitchen

For more soup ideas, check out my ebook Cheryl's Soup Kitchen.  I include recipes not only for many kinds of soups, but I also give recipes for side dishes to fill out the meal.  And I provide tips on ways to streamline your kitchen for fast food preparation.  Check it out here:  http://www.cherylmillerville.com/soup/
Print This Post
|
Leave a Reply