Posted by Cheryl Miller on Oct 4th, 2011 | 3 comments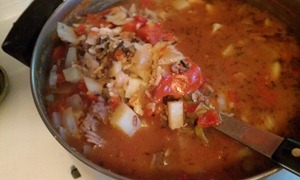 While stirring and contemplating the soup I'm making (recipe below), I thought "I need more potatoes."  I reached down into a sack without looking and grabbed one – a small one.  Perfect, I thought, a small potato.  That must be where the expression came from "oh that's just small potatoes."    One dictionary definition defines small potatoes as "someone or something of little significance or value, especially a small amount of money."
But the small potato was perfect for my soup – sometimes it's just that little bit extra, the small potato, the pinch of salt (or sugar), that rounds out the dish (life) perfectly.
In a bigger-is-better culture, the small potato might not seem worth much.  But in my soup, it's perfect!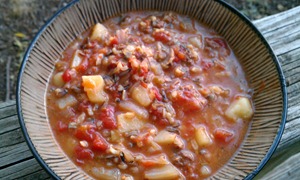 "Recipe" for the Soup I'm Making as I write – inspired by the beef-rice mixture wrapped in cabbage and cooked in tomatoes.  There's a name for it–anybody know the name?
Sauté diced onion, garlic, and ground beef in small amount of oil (ground beef is optional—I prefer grass fed)
Box or can of beef or vegetable broth (I prefer organic)
Large can of diced tomatoes (yes, organic) (28 ounces)
Small can of Rotel (10 ounces–some like it hot!)
1/2 cabbage roughly chopped
3/4 cup of brown rice (I use a mixture of various brown rices and wild rice)
Once it begins to bubble, turn the heat down and simmer for 50 minutes or so stirring occasionally
As it cooks it will thicken slightly and look oh, so good!
Last step – Eat it!  Just in time for the cooler weather!
OOPS – just remembered I wanted to use up some mushrooms so I sautéed them (to help them catch up to the rest of the soup) and stirred them in.  It's a tantalizing brothy stew and smells terrific! 
While I'm waiting for the mushrooms to integrate, I'm eating a small dish of peaches I froze during peach harvest this year.  A sweet, juicy appetizer that's for sure.
Got a comment to share?  Post it at the comment link below.
Print This Post
|
3 Responses
Leave a Reply