Posted by Cheryl Miller on Feb 28th, 2011 | Leave a comment
Recently I had surgery on my foot.  On the way home from having the bandages changed, I found a penny on the ground.  I thought of something positive I wanted to have happen as I picked it up. 
Now here's the fun part.  Picking up that penny made me think about how grateful I am for the pleasurable things in my life.  Next, I visualized a "pleasure bank" that gets fat every time I drop a coin or two into it when I acknowledge a pleasurable event–the hot cup of coffee I was drinking, the sunny day, just two more weeks before the stitches come out! 
Noticing the small, daily pleasures and mentally dropping a coin in your pleasure bank feels great – it makes pleasure feel more real. Try it!
Speaking of pleasure….when it comes to snacking, you can have pleasure and good health.  As humans we move towards pleasure and away from pain.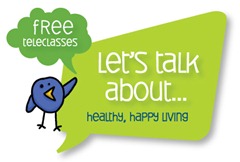 When it comes to your snacks, you can move toward pleasure…
Did you know that the quality of your snacks can dramatically affect…
Your weight
Your blood sugar levels
Your energy
Your emotional state
And your stress level
Cross my heart–it does. And what do you think of those 100 Calorie packs?  Come hang out with me and find out if these snacks are for you (or not!)
Join us for the upcoming Let's Talk About Healthy Snacks – free tele-conversation Tuesday, March 1, 7 CT.
Find out how to make your own snack packs – ones that help you release weight, level out blood sugar levels, increase your vitality, calm your emotions and help you manage stress. And of course healthy snacks will help you build a healthy, strong body (really, not just advertisement-speak).
We'll get down and dirty talking about snacks – our favorites, our sinful pleasures, and then we'll switch gears and share popcorn-brainstorm-style about healthy snack ideas and recipes.
Come to the call if…
You're a nutritionist or health educator (to share your wisdom)
You're overweight and want to lose rather than gain weight
You're an athlete and want to be able to perform better in your sport
You like to cook and share recipes (especially healthy, tasty ones)
You have a chronic health condition and need improved nutrition
You're a parent and want to provide better snacks for your kids
You live a busy, fast-paced life and grab food on the go
You like to eat!
Visit this link for more information and to sign up:
http://www.cherylmillerville.com/letstalkabout/
If you're not sure you've signed up yet for the series, go ahead and sign up again. You'll get only one subscription if you use the same email, so don't worry. 
Please join me and feel free to forward this email to your friends and colleagues.  Everyone is welcome.
Print This Post
|
Leave a Reply