Posted by Cheryl Miller on Sep 30th, 2011 | 5 comments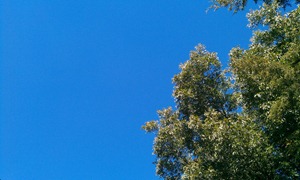 Am spending as much time outside today as I can because it's the most beautiful fall day.  So far I've done these things outside (mostly on my deck):
had coffee while writing my "to do" list and jotting down ideas for my business
recorded my dreams in my dream journal
walked Toby on the levee
ate lunch
did some writing
took pictures in my yard (including the big blue sky to the right)
watched the birds and butterflies
made phone calls
just sat and surveyed my little corner of the world
After a bit more lounging, I'm going to splice wires and hook speakers up to my "new" audio component set purchased at Goodwill a few days ago for $9.00.  I need to make sure it works and get it set up in my loft bedroom where I exercise, watch movies, and sit in peace.    Adding electrical outlets on my porch and deck was one of the smartest decisions I made when getting my house rewired.  I'll be able to plug in the audio set and work outside soaking up this glorious fall energy. 
Why am I telling you all of this?  Good question.  Spending time in nature is some of the best medicine we all have access to, but we don't often take the medicine because we're busy, we forget how healing nature is, or we don't  know that nature can be so enjoyable and healing.  I highly recommend that you start taking more of the natural medicine available when spending time in nature.
Comments Please – Do you spend time in nature?  Why, why not?  Have you experienced the healing effects of nature?  Share your comments at the link below.
Print This Post
|
5 Responses
Leave a Reply