Posted by Cheryl Miller on Dec 21st, 2011 | Leave a comment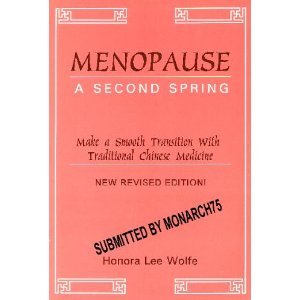 At my women's group meeting last night, several women talked about their concerns about menopause and the accompanying, aggravating symptoms.
One member told us of a book that extolled menopause as a beautiful, natural, and important transition.  We perked up because who doesn't want to see menopause as a positive experience!  Our friend reminded us that western medicine makes menopause a problem to be dealt with using drugs and a "put up with it" mentality.  Everyone nodded in acknowledgement that this is the unnecessarily negative conventional  perception of menopause in the western world.  And it's time for a change.  There is a much more positive approach.
Here's a link to a positive spin on menopause and one powerful method to help manage the transition.  This article is written by the author of the book my friend was telling us all about.
Several of us are buying her book:  Menopause A Second Spring:  Making a Smooth Transition With Traditional Chinese Medicine.
Let's stick together in seeing menopause as a natural, beautiful, powerful transition to new life.
Print This Post
|
Leave a Reply