Posted by Cheryl Miller on Oct 22nd, 2007 | 6 comments
Light footprint, big impact. I just buried Jasmine under the pecan tree where she and Chelsea always crawled under the deck. It was a BIG hole. Then I walked down to the Kansas river to sit a spell and ponder all the wonderful help and guidance Jasmine and I have gotten from all sides of the Universe-both human and divine.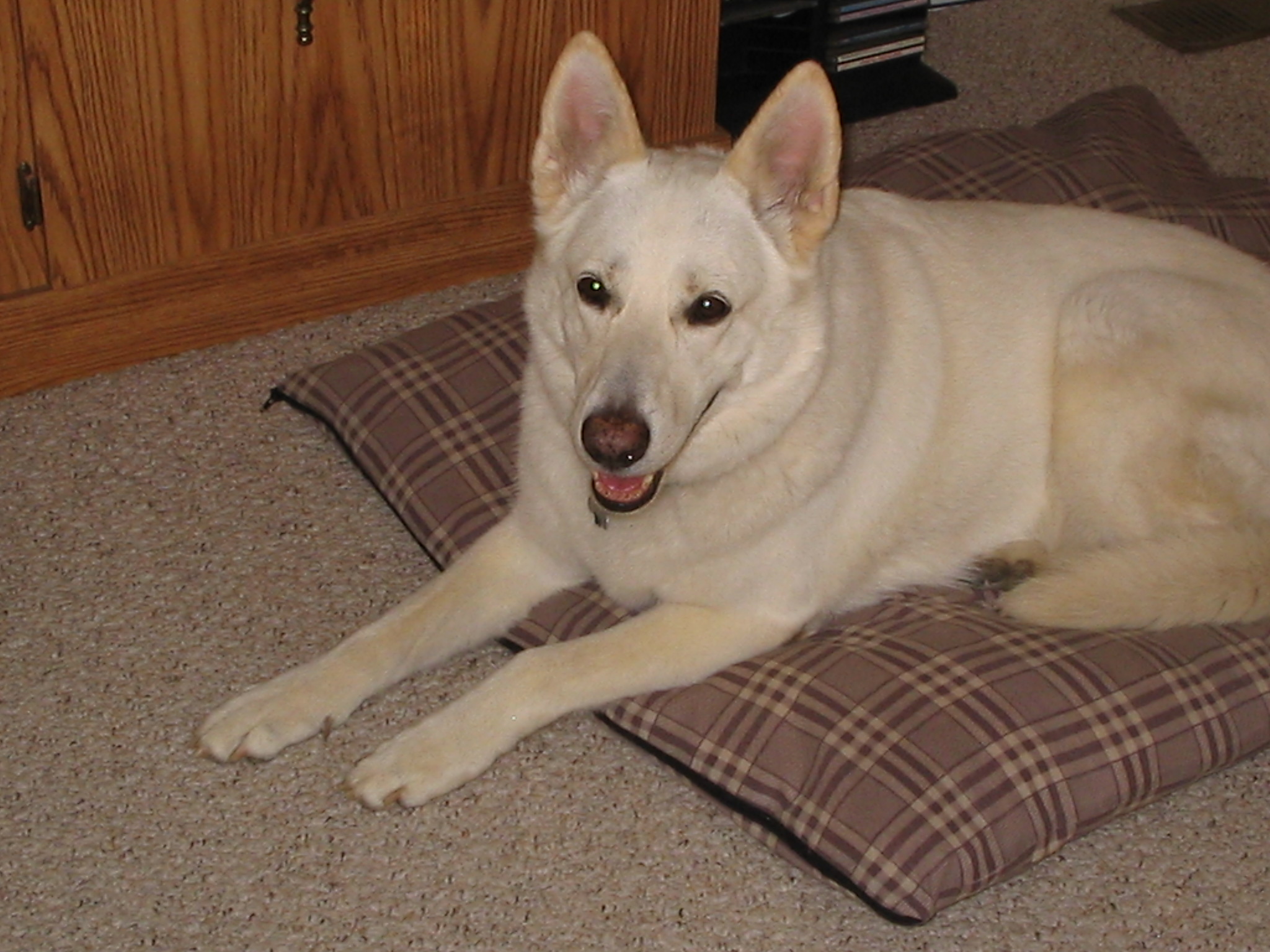 I've walked my dogs along that river since 1991. It felt really close and personal when I sat on the rocks by the shore. It made me philosophical and I remembered reading about Mother Teresa's death.
When she died, she left behind only 5 possessions: two saris, a wooden bowl and spoon and her Bible. At the time I remember being ashamed that I had 5 telephones.
Jasmine left behind just a few simple objects too: her food and water bowls, her leash and collar, two dog beds, and a dog house (that was more for me than it was her since she rarely used it).
As I vacuumed her tufts of white fur from all the corners, I became aware that this was the last time I would do that. In an instant, a task that I had always disliked became a task I longed to have the opportunity to do again and again.
With the loving presence of Mother Teresa who equally embraced the leper, the beggar, and the starving child, Jasmine looked with love into my eyes always–no matter what.
I received an outpouring of cards, calls, and emails. I'm sharing them here as a tribute to Jasmine and the loving community who supports me when I slip, trip, or fall.
It's raining here and I was just sitting here with the lights out looking out the terrace door thinking about Jasmine.

Joy-container
Angelic
Spirit-dog
Miracle
Infinite
Native
Everlasting

I loved Jasmine, I really did.

Jasmine is so blessed because she had so much love and light surrounding her. She was like the dog of a village of pioneer, magic women. Jasmine was ours and we were hers. Lena
There is no way to really explain to anyone else the connection that you have with a pet, especially a soul like Jasmine. I feel your loss. May you always know that love. Tomorrow, I will have my dogs send a message to dog heaven. We will miss her. Kris
I am so sad about Jasmine. I have been thinking of you all day. I was thinking that tomorrow was the day the vet was coming. I didn't realize it would be tonight already. She was truly a beautiful spirit, and she was as lucky to have you as you were to have her. And all of us who were able to meet her were lucky, too, to have been touched by her in some way. She had a beautiful spirit, and her memory will linger always. My love and thoughts are with you tonight. Hugs, Tamara
So sorry to hear about Jasmine's illness. I know how completely miserable it can be. I had to put my dog Banjo down last year and I wept from my heart. Hang in there and, as I know you will, remember the great buddy that you have had for so many wonderful years. xo Bob
I'm so sorry for your loss. Jasmine was a good friend and a lovely dog-person. It's so difficult to see good friends decline and suffer. It was wonderful that the vet and tech came to your home so Jasmine could die peacefully with her person in her home. Reading your email made me cry, but I'm glad that you're taking the time to ponder life and that you're open to another pet in the future. I can't thank Cookie enough for all the joy she has given me over the years. And she's by my side, anxious that I've forgotten her walk. So I'd better take her. Know that I'm thinking of you and sending you good thoughts. Love, Claire
sunflowers by the gate

a big white dog waiting in the garden

not barking, calm, interested.

people having drinks on the back deck, animated,

full of pleasure – fluffy white dog at their feet, basking, not needy

giving as much as she received

giving more than we knew

nearby, the river flowing in ancient bed

not hating the ones that polluted her

trains full of coal screaming and humping by

laughter and fellowship at Cheryl's –

people, and one great dog with boddhisattva eyes.

love,
Dixie
I'm so sorry to hear that Jasmine did not pull through. She sounds like she was a wonderful pet. I'm sure you have great memories of her that will be comforting.My best, Dennis
I am so sorry for your loss. I know how much you loved her and how special she was. My heart goes out to you. I know she'll be hanging around to watch over you.I'll always remember the Community rock. Love you, Lana
I am so very sorry to learn of the death of your beloved pet. She was a beautiful dog, and so devoted to you. I'm glad I got to meet her when we were in Lawrence. Losing a pet is a great loss–they are our unconditionally loving companions, which is more than you can say for some people! It sounds to me like you're doing all the right things to take care of yourself. The river was a special place for me (and Oliver) when I lived in Lawrence, so I truly understand your feelings for it. If you find yourself wanting a change of scenery, please remember you are always welcome to visit us. With love and understanding, Sandy
I am so sorry about Jasmine. It is 10:00 AM now, I'm at work but I can't help crying. Don't know what to say but my heart is with you. Please call me when you can. Najah
Jasmine was such a great friend. I am so very sad she is gone. I am sorry and will keep you in my prayers. Tony (my handyman wrote this at the bottom of his invoice for recent work – really sweet!)
Thanks for letting me know about Jasmine. What a wonderful doggy soul! Although I'm saddened by her departure from this plane, I'm so very grateful for the time she and I had on your porch that day. I've never had a dog just open up to me in that way, and it was very wonderful. I'm also learning a lot and taking to heart your journey. What a brave and beautiful soul you are as well! Thanks for being part of my life. Love and blessings, Jo
Reading about Jasmine was the last thing I expected this morning. I just sat down to go through the emails from our vacation. I'm so sorry. I know that you had some time to be with Jasmine to think about it and get used to the idea because your last email was very calm and bittersweet. It looks like you have a busy weekend ahead, but I'll call and see if we can connect at some point. Today is Chris' 50th birthday so we are going to be out part of the day celebrating. I wish I was there to hold your hand and just be with you. I love you very much. Diane
Hi Cheryl, I hope you don't mind but I can't stop crying! I know how you feel and it will take some time to get through all of this. You are doing the right thing by staying busy. As much as I want a dog in my life I just can't yet. Losing my Jezebel 5 yrs ago this Oct. is still tugging at my heart and she is missed so much. Kiwi and Hodge (my cats) that died will always be in my heart. Please remember that you are in my prayers and thoughts. Love, Justine
I am sorry for your loss, Cheryl. It is a hard thing to lose a close friend. You were both good to each other and she had a wonderful life as a result of finding you. Dogs are amazing creatures. They change our lives in small subtle ways that leave a deep lasting meaning that there are no words to fully describe. I always have found it cruel that their life is so much shorter than ours….but that is just my selfishness. They burn 4 times as bright while they are here. I will be thinking about you and Jasmine today. Love, Chris
I was ironing Sunday afternoon and at 5:10 had a strong feeling of grief. I thought of you and Jasmine, knowing you were in turmoil. We are thinking about you and your "happy" life with Jasmine. I know Hannah is also very sad. I like to think of Jasmine's heaven looking like your levy! In the fall when lots of leaves and mud. Love you Beth
I wish I could just take away all the pain I know you are feeling – but only time can do that. Just remember that Jasmine will always be with you – in your heart. Your friend, Betty
I'm so sorry to hear about Jasmine. She was a very sweet dog. I'm sure you miss her very much. My thoughts re with you. Ann
I'm so, so sorry. I know she was a huge part of your life. I'll say a prayer for Jasmine — and you. Carol
i am so sorry to hear about jasmine – what a wonderful spirit she had. it is an honor to have met her and played with her. you are in our thoughts and prayers. blessings, cathy and bettie
What a wonderful thing that you had a nice sunny day so that you could sit and contemplate the great gifts that Jasmine brought you. I'm sorry for your loss. You have such a great attitude. This email brought tears to my eyes-not just because I can imagine how difficult this transition is for you, but because I am inspired by your outlook and ability to look at all life situations as valuable opportunities to grow and move forward. I love you, and will give you a call next weekend. Love Michele
Oh, Cheryl, I'm so sad that you had to say goodbye to your dear friend! Jasmine was a wonderful companion for you, just as you were for her. You were lucky to have found each other. And you are right, when the time is right, I know another animal companion will make his/her way into your life. A big hug to you in this poignant time! Love, Deborah
Oh, love and loss and sadness, damn it. It brings up memories of my own pain to know that you are experiencing all that now. Somehow it is all part of life and we must be in it.

Blessing Jasmine, spirit dog, and my Tip, spirit dog.
Blessing you, Cheryl. You are beautiful and loving and inspiring. I appreciate your friendship, Sharon
In addition to the prayer, let me know if there is anything else you need. Some say i'm a good listener (anytime). Love, Jena
Oh my! I'm so sorry to hear your dear Jasmine was ill and had to leave the planet! I have found the loss of my "pets" to be the hardest thing in this world, often even more so than the loss of lovers! [perhaps because I found the love shared was more perfect and less fraught with pain]. You guys were so bonded and had so many lovely walks and adventures. She was definitely a big force and presence and your life will really feel different without her. She was so solidly there, that I imagine it will mean a big empty space in your life and home for a while.

My last big dog, Ben, had lameness and then cancer was discovered and no chance of survival, so the vet "put him to sleep." This was just after Tom and I broke up, and Ben lived with him. I was sorry that Ben died in the vet clinic, as he truly hated that place. Once he wouldn't get out of the car there when he was going for shots, and it was like trying to push around a 100 lb pile of cement blocks with skin on them. Maybe he had a premonition. I finally started crying in frustration, and he jumped right out! I like that the vet and tech came to you.

A friend in CA had a cat named Jasmine, and the vet came to her home and put her to sleep. Later that day I went over and we buried her near the deck (she was a tiny delicate being–like 6 lbs–and so not what you faced), and then we planted a jasmine plant on the top of her burial place so that it would twine up over the base of the deck, and waft soft scents into the windows, as a kind of living memory of her sweetness. It's good to have a ritual to go though something so difficult.

I got to spend the weekend with the Dalai Lama last week at a teaching on emptiness–how everything we think of as important and real doesn't last and only compassion and detachment matters. Your note shows that teaching in action.
Keep taking especially good care of yourself, and doing the next right thing! With love and sadness, Priscilla
Would you like to leave a comment? I invite you to leave a comment about Jasmine or any pets you have loved and lost.
Print This Post
|
6 Responses
Leave a Reply