Posted by Cheryl Miller on Sep 18th, 2010 | Leave a comment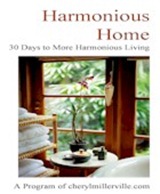 LIVE at Matfield Green, Kansas–Harmonious Home Workshop Retreat:  Three Rooms that Can Make or Break Your Self-Care Routine, facilitated by Cheryl Miller
Location:  Tallgrass Spiritual Retreat Center … Where Women Find Their Way
1780 Thurman Creek Road, Matfield Green, Kansas 66862
Dates:  October 1-2, 2010 – Fri 7:00pm – Sat 4:00p
Fee:  A steal at $80 including the workshop, overnight stay in the retreat bunkhouse, meals, workbook, and the lovely setting where you can walk and wander … and sit a spell to reflect on the place harmony plays in your life.  Plenty of breaks to walk to prairie labyrinth too!
About the Harmonious Home Workshop/Retreat
Your home is the starting place for everything that happens in your life.  It's the foundation, and it's the backbone of a regular healthy eating and fitness routine.  Your home is at the heart of your rest and relaxation.  It's your wellness environment – or could be.  That's why at the beautiful Tall Grass Spiritual Retreat (LIVE) we'll be focusing on the three most important rooms in your home:  the kitchen, the bathroom, and your bedroom.  Find out why these three rooms are so important to your health and well-being.
Through instruction and interaction, you will learn to . . .
Create a personal vision for your home
Make an awesome Harmonious Home ™ action plan
Troubleshoot (and solve!) problem areas in the bedroom, bathroom, and kitchen
Get rid of the excess                                     
Take consistent action each day – small steps will get you there!
Create organized zones in each room
Use inexpensive containers and other organizing tools to simplify storage and retrieval
Eliminate dread and procrastination
Use tricks to help you stick with it – even when you want to chicken out
Discover how to finish what you start!
Streamline daily routines and create pleasant rituals
And there's more!
You'll  also receive a 40-page workbook: Harmonious Home™:30 Days to More Harmonious Living by Cheryl Miller
To learn more and to register to attend LIVE at the Tall Grass Spiritual Retreat:  visit this link:  http://www.tallgrassretreats.com/HarmoniousHome.html

If you haven't already heard, I'm also offering a free Zen in 2010 teleclass September 30 at 7pm Central.  This class will focus on all the unintentional collections we have of all kinds including books, jewelry, beauty products, souvenirs, plastic food containers … and the list goes on.  Find out why you collect the things you collect and what you can do about it (if you want to do anything about it).  Get the details and signup here:  http://www.cherylmillerville.com/zen/teleclass-registration
Print This Post
|
Leave a Reply