Posted by Cheryl Miller on Feb 15th, 2011 | 1 comment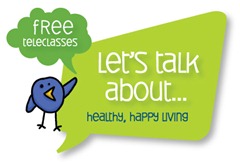 Just finished the first tele-conversation in the Let's Talk About Healthy, Happy Living series (1st and 3rd Tuesdays each month).  Our topic was having fun.  Here are some great quotes about fun and highlights of our conversation. 
" He who does not get fun and enjoyment out of every day…needs to reorganize his life"
-George Matthew Adams
"If I were a toy, I would say 'Press my Play button'."
Julie De Koven
"The human race has only one effective weapon –and that is laughter."
Mark Twain
"People rarely succeed unless they have fun in what they are doing."
Dale Carnegie
"Most people are about as happy as they make up their minds to be."
Abraham Lincoln
"Happiness is not having what you want. It's wanting what you have."
Unknown
"It is a happy talent to know how to play."
Ralph Waldo Emerson quoted in Joy by Beverly Elaine Eanes
Notes from the Conversation….
Things people shared that were fun for them:
hitting the bike trails on a sunny day
hiking (with great weather, scenery, friends)
road trips with favorite music, no time table – freedom!
cleaning, organizing, clearing the decks (fun checking things off a list, satisfying results)
playing with cats or other pets
listening to shape note singing group
hoola dancing for nursing home, party, other event
reading a good book
enjoying a spa bath or massage
winter camping
going on retreat
What can keep us from having more fun – perceived obstacles
Money can be an obstacle if we can't shift our mindset about what we want and about money worries.  One participant talked about  how she's tuning in to the essence of what she really wants for a 3-day vacation that she can afford.  Her creative juices have been activated and she's having fun doing the research for local activities accessible via public transportation (inspiring story/reframe)
Inflexibility – if we have our heart set on one way to have fun and it doesn't work out that way, it can be hard to switch gears (but switching gears is possible)
Unhappiness and unmet needs – can learn to meet our own needs with a meditation technique to provide comfort to yourself by Pete Sanders Access Your Brain's Joy Center
Drama and family upset – one participant shared that they just went with the drama and chaos and turned the opera music up really loud.  That shifted the family energy/dynamic and they all enjoyed the Valentine's Dinner (another inspiring story/reframe)
Clutter – makes us feel guilty, overwhelmed, so less likely to be free spirited and think about having fun (split a 3-day holiday into one day of cleaning/organizing and two days of fun!)  The cleaning and organizing clears the deck for guilt-free fun.
Feeling out of Control – use mindfulness and meditation to tap into personal freedom and peaceful relaxation (includes mindful breathing).  One participant said that meditation is an awesome all-purpose tool and I agree.
How we can build more fun into our lives
Hang out with fun people
Have a fun buddy to do things with
Make a list of fun things to do – create a fun menu to remind us of fun things when we're feeling blah or blue
Post inspiring quotes and affirmations to remind us to have fun
Schedule fun activities into our calendars
Visit the Chamber of Commerce or Visitors Center and pick up brochures on 100 things to do for free/fun in your town
Create a "fun" file
Practice mindfulness (to become aware of pleasure)
Do some biblio-therapy (hang out in a library or bookstore and read while sipping a hot cup of tea or coffee.  Read something you wouldn't ordinarily read.  "Borrow the book" for a coffee break so you don't have to buy it or check it out.
Unpack the good China and use it.  Set a nice table with candles.  Wear lipstick, a cool pin, put on a fragrance.  Make life an occasion.
A few takeaways from the call:  not as lacking in fun as we thought but need reminders to build fun in.  Also, we can be more in control of our lives than we sometimes think – even if we have a challenging life.
If you missed this conversation and would like to sign up for the series (it's FREE!), visit this link:  http://www.cherylmillerville.com/letstalkabout/
Print This Post
|
One Response
Leave a Reply