Posted by Cheryl Miller on Jan 12th, 2009 | Leave a comment
I got a great audio testimonial from one subscriber who loved my Wellness Soup.  Listen Here.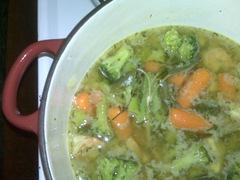 Lena was going to go out for takeout but got inspired by my soup recipe and decided to stay home and make her own.  She substituted wildly (using what she had on hand and what her tastebuds fancied).  She loved it…you can hear it in her voice.  Listen Here.
This is the picture she sent showing her delicious version.  Click on the picture to see a larger view.  Yummy!
If you missed my Wellness Soup recipe, get it here.
And don't forget to check out my other soup secrets!
Print This Post
|
Leave a Reply