Posted by Cheryl Miller on Feb 6th, 2012 | Leave a comment
Day 1 of nutritional cleanse (cleanse phase)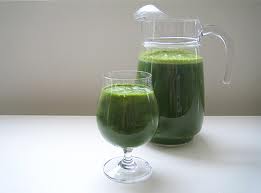 I'm finished with the 7 days of pre-cleanse (I actually did only 3 days it).  Now I'm on Day 1 of the cleanse which includes vegetable broth, green juice, a spicy lemonade, herbal tea, and green supplements.  I'm pretty proud of myself for doing so well.  The broth was delicious and satisfying.  Cravings weren't too bad–even though I went to two grocery stores and saw food everywhere I looked.  I walked right past all the free samples.  So virtuous!
Here's what's at the heart of my discipline….
My purpose is motivating me.  My theme for this year is Younger Next Year meaning that by this time next year I will look and feel younger because of all the lifestyle changes I'm making this year.   I'm shaking up my life – including how I eat.  This cleanse is part of that shakeup and it's working.  I'm getting really clear about how I use food to manage my moods and to punctuate the day with pleasure.   
My cells are thanking me as they're bathed in pure nutrition–they're getting younger.  I don't have any detox symptoms yet and hopefully won't.  That's why we all did the pre-cleanse – to make the cleanse easier.
If you think I'm nuts and want to know why I'm doing this, here's a post written by one of the women guiding us in this nutritional cleanse.  She's an M.D.
I'm definitely living more mindfully on this cleanse.  When I'm not numbing and pacifying myself with food and drink, I see that there's a big world out there to observe and it's lookin' good!
Let's see what tomorrow brings.  it's a journey.
Print This Post
|
Leave a Reply