Posted by Cheryl Miller on Oct 10th, 2010 | Leave a comment
How would you like to finally conquer clutter…and be more Zen in 2010?  I can help you get serious about doing it!  Seriously, I don't think there's anybody who can help you do this more than I can.  I've been there, done that.  And I'm serious about helping anyone else who is serious.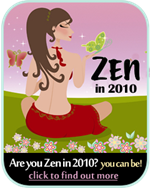 I've developed a 4-part teleclass series that will help you get there. It's called Zen in 2010:  Conquer Clutter to Increase the Hum in Your Life
If you have better things to do than push clutter around for the rest of your life, you may be interested in my new Zen in 2010 teleclass series.
The series will include my 4-Step Zen Process to tackle any cluttered or disorganized spaces.  You will also be invited to participate in discussions, self-reflection exercises, and whatever else it takes to help you be successful. The four weekly topics cover the most critical topics: indoor spaces, outdoor spaces, nooks & crannies, and all things paper.
You can will also participate in several "Zen Days and Nights"  for help getting off the dime and getting things done (and who doesn't need help with that!) Find out what these cool calls are about and how they can help you be more Zen in 2010: www.cherylmillerville.com/zen
And check out the bonuses you get when you sign up to participate including the popular Harmonious Home ebook. This ebook takes you step by step through decluttering your bedroom, kitchen, and bathroom so you can live more harmoniously and succeed with your personal self-care goals. This ebook alone will take you half way to being more Zen in 2010. The class experiences will take you the rest of the way. The program is designed to fully support you (and make it fun!) as you take steps to increase the hum in your life.
You don't have to be a task master to be successful in this program.  You just need to keep taking steps closer to your ideal life and I'll help you with that in any way that I can.   I'm there for you for four full "Zen" weeks. When you start now (October 14), you won't have to put conquering clutter on your 2011 New Year's Resolution list because you'll already be on the path. The program is designed to make sure of that. Get the full scoop here: http://www.cherylmillerville.com/zen/
If money is tight, I just added two payment options (2 monthly payments, or 4 weekly payments).  Hope that helps ease the budget!
Print This Post
|
Leave a Reply