Posted by Cheryl Miller on Feb 3rd, 2012 | 5 comments
Day 5 – Nutritional Cleanse (pre-cleanse phase)

Have you ever noticed that vegetable lovers always call them veggies and vegetable haters always call them vegetables?  I usually call them vegetables, occasionally veggies.  So you see my challenge–I'm on the fence about veggie-tables.  I know I should love them, but I don't.  I still eat them because I know they're very good for me.  I also eat them because I'm a wellness practitioner and it just wouldn't look good not to eat them

I've spent a couple of decades learning to make vegetables taste better–healthy sauces, stir fries, and flavorful brothy soups.  I own several high-flavor cookbooks and tend to favor ethnic cuisines that are heavy on the spices.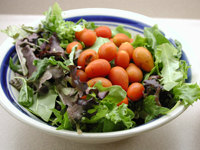 For lunch I had a fantastic salad with balsamic vinaigrette–the dressing made it.  For dinner I had a cauliflower, kale, potato soup that was also fantastic (seasoned with Indian spices).  The sauteed green beans and garlic tasted good too–no fancy spices.  I don't know what I'm whining about.  Everything tasted fantastic.  Maybe I don't really hate veggies
  Maybe I just think I do.
Is anybody else conflicted about vegetables?
Print This Post
|
5 Responses
Leave a Reply