Posted by Cheryl Miller on Jan 4th, 2011 | Leave a comment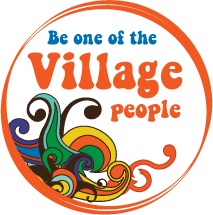 First read the description below to better understand what's involved in being a Village People team member. Then fill in your name and your primary email and click the button. You will soon receive a welcome email with a special gift for joining.
Who Are the Village People
and Why Would You Want to Be One?
The Village People are a special group of like-minded folks who want to share, socialize and get the most out of the CherylMillerVille wellness community. If that sounds appealing to you, read on…
I've been building The Ville (cherylmillerville.com) since 2003 with a small team of talented people. Our mission is to create a community that helps people take action to live healthy, happy lives . . . in this lifetime.
It is now time to open it up to a bigger team that may include you (if you're interested) because there's a bigger vision that needs bigger thinking to create. If you're a big thinker, someone who likes to help and wants to be part of a movement to live healthier, happier lives, I invite you to become one of the Village People at The Ville.
Why does the CherylMillerVille community need you?
Quite frankly, in order to see this community grow and have an impact on the health and happiness of as many people as possible, I need your help. While I'm the kind of person who gets a lot of things done, I'm also the kind of person who has a bunch of good ideas that never go anywhere. I get divinely inspired ideas and then wonder: will anybody be interested in this idea, will it be a lot of work and go nowhere, will it be fun for me and others? These questions have a way of draining my enthusiasm, and I subconsciously move on to something else. When inspiration comes, I'd like to be able to ask you what you think.
Having a team of people working with me to make projects and ideas come to life will change everything. You can help me see what's half-baked, what will work and what won't. You can help open up my thinking about a topic, and offer a different way of seeing it. Plus, I need you because I'm a creative person who needs a little support and encouragement now and then to keep going. And I want to hang out with people who "get me" and who I can be inspired by. Is that person you?
Six Reasons You May Want to Be One of the Village People
You enjoy receiving private invitations, gifts, freebies, and discounts in appreciation for your contributions and participation on the team
You want to belong to something neat – shaping the development and evolution of a wellness community that you and others want to be a part of.
You want to spend more time with me and other like-minded people. To see things first, to feel close to the source, close to the front of a new way of being, thinking, and living.
You, like the CherylMillerVille community, are a little counter cultural – when others are going down the well-worn path of eating a diet of highly processed foods, over spending, over eating, and over consuming in general, we're exploring the road less traveled and making our own way, against the crowds, against the trends that don't contribute to our health and well-being.
You want support for your own wellness journey. You want to increase your own commitment to living a healthy, happy life. Being a member can enlarge your thinking and provide a supportive environment for your own health and well-being.
For those of you working on your own businesses, you will learn how to set up your own team and interact with them to create synergy for your programs and projects.
Join the Village People!
As One of the Village People, Here's What to Expect:
You will receive periodic emails inviting you to give feedback, input, suggestions, and reactions on a topic under discussion by the Village People team. These emails might include items like the following:
An idea for a program that I want input on–even invitations to be a beta tester (yep, free programs and sneak peeks!)
Invitations to participate as a content expert on health/wellness topics (good advertisement for your website/business).
Project announcements, request for inspirational quotes or stories on a particular topic.
Invitations to participate in occasional private teleclasses related to topics discussed in our email exchanges. On the teleclass calls, you'll benefit from the expertise of a wellness coach as well as the other Village People on the call.
You can comment or not on the email requests I send—usually no more than 4 a month. If the topic isn't of interest or if you're too busy, you can ignore the request. However, please join the Village People team only if you're interested in contributing . . . when you have the time and when the topic is of interest. We want the Village People to be a vibrant, active team who really makes a difference in the development and direction of CherylMillerVille.
Emails sent to the Village People are confidential and not to be shared with others. You can, however, feel free to invite others to join the team. Any ideas or strategies you share may be used as is or adapted into a product or service offered at The Ville. Unless I get snowed under with responses, I will acknowledge every email response and of course I'll carefully read them all. You may unsubscribe from the Village People team at any time. There will be a link to manage your subscription at the bottom of each email you receive from me.
Join the Village People Today!
I am really excited about this team and the work we can do together. I've always believed that together we're better. When you join the Village People team, you will have a stronger voice in creating a world you're happy to live in – a world that supports healthy, happy living . . . in this lifetime. Will you join us?
Just fill in the form below to get started. You will receive an email welcoming you to the team along with a special gift.
Power to the (Village) People!
Cheryl Miller,
Wellness Strategist, Life Coach, and Mayor of The Ville
Join the Village People!
Print This Post
|
Leave a Reply