Posted by Cheryl Miller on Oct 9th, 2010 | Leave a comment
Do you ever think about others coming into your home if something happened to you? And what they would think about how you're managing your life? Would you be ready to have them step into your life and your home?
I thought about this scenario this week after I was diagnosed with skin cancer. Even though it's not life threatening, it was a wake up call. If somebody had to step into my life to take care of me and my little domain, would everything be in order? Would they be able to find the important papers they need? Would they feel comfortable in my space? Would I be comfortable having them in my space?
I would not be horrified or embarrassed, but I could be more comfortable and my place could be more ship shape. So every week when I show up to the Zen in 2010 teleclass to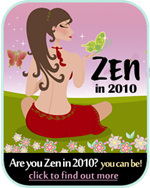 Conquer Clutter and Increase the Hum in Your Life, I'll be sharing how I'm doing with my Zen in 2010 process. I'll be kicking it into high gear. It's going to be a singular focus for me. I will get it done! I know you'll find it inspiring because when I work on my own space, only good stuff comes of it. I get clues about how to help you do it too. I channel decluttering intelligence that will translate into benefits for you-–my beloved village people. When you're in my orbit, I shine as brightly as I can for you. Let's conquer this clutter thing.
So if you're still on the fence about whether you'll join me in this life-changing series, don't delay. It starts this week Thursday and you'll want to be one of the people who makes major leaps (mentally, emotionally, and physically) to conquer clutter.
And if money is all that's stopping you, I'm willing to offer you an option to divide the payments up – so that it will work for you. Just email me with your preference (maybe one payment in October and the second payment in November—two post-dated checks). If you think some other option would work better for you, let me know. And if you'd like to pay the full thing now, go for it! I aim to please.
So visit this link and make a decision: http://www.cherylmillerville.com/zen. Are you in? Hope so.
Let's get started on creating a space that you feel comfortable inviting others into.
Print This Post
|
Leave a Reply