Posted by Cheryl Miller on Sep 20th, 2010 | 4 comments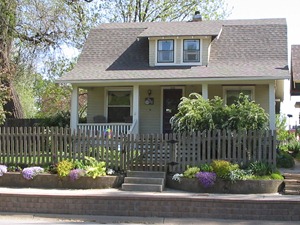 I'm basically lazy about doing chores.  I'd rather sit on my deck or front porch with my dog Toby and my laptop – watching the world go by.  It's a great front porch isn't it – like years gone by.  Getting up to do housework is the last thing I want to do.  I'm a right-brained, creative type and I have a high tolerance for leaving things undone.  Thankfully this lazy streak is offset by my vision for my life which I express in two words:  beauty and efficiency.  My lazy, creative self battles it out regularly with my vision for how I want to live my life.  Thankfully, my vision always wins, but it sometimes takes time—a week or two, or longer.
Here's an example.  I woke up this morning a little tense.  I figured it had something to do with all that I need to get done but I wanted more clarity.  So I did what I frequently do—I went to my journal and asked myself a series of questions.  Amazing how smart I can be when I'm asking questions that are compassionate, nonjudgmental, and guilt-free. 
In a nutshell here is what I discovered.  I work hard and when I get a chance to sit on my deck at the end of the day and on weekends, I don't want to have to do another thing.  It's called demand resistance.  Now don't worry and start giving me advice that it's OK to rest and play.  I know that all too well – remember that's what I'm battling and writing about here.  I want to rest and play all the time – seriously.  I'm such a kid!  But even after working hard at a job or business, there's a household that needs to be taken care of, groceries to buy, food to prepare, weeds to pull, repairs to be made, fun to have with friends, potlucks to prepare food for and the beat goes on. 
I would love to be somebody who has that stuff taken care of for them.  Of would I?  Another belief I have is that it's my duty and an honor to take care of my domain.  When I finally get up off my couch (on the porch) and get to work, I'm really pleased to engage with my yard.  I connect with the worms, caterpillars, squirrels, birds, and bugs of all kinds.  As I tidy up my domain (inside and outside), I feel a sense of pride and achievement.  So there's another conflicting value – lazy – beauty and efficiency – pride in taking care of my domain.  No wonder I need to journal to get it all straight. 
I just need to give in to who I am and how I operate.  In the end it works out really well, so what's the fuss?  This translates into being OK with whining to myself about getting up off the couch to take care of business, being pleased as punch about how neat my yard looks after a couple of hours of weeding and tidying.  In fact, the bottom line here is that happiness and peace of mind come with being OK with what is (says Byron Katie). 
Ah, I'm more Zen now.  

Speaking of Zen, did know I'm offering a free teleclass Thursday, September 30 at 7pm Central time.  It's about being more Zen – one of the key things we'll look at is whether you're an accidental collector.  I think most of us collect things – even if we're not packrats.  We collect plastic containers, rubber bands, batteries, ball caps, body lotion, toilet paper, whatever.  These collections start to edge us out of our homes (and cost a ton of $$).  Sign up for the teleclass – we'll talk about how to be more Zen in 2010:  http://www.cherylmillerville.com/zen/teleclass-registration
Print This Post
|
4 Responses
Leave a Reply