Posted by Cheryl Miller on Jun 30th, 2008 | 5 comments
I spent the last two weeks in North Carolina helping Mom and Dad get settled after Mom spent 3.5 months in a rehab hospital after a fall. Because Dad has mild dementia, he spent that period of time first at my brother's in Michigan, and then at my sister's in Ohio. Mom is 87 and Dad is 84. Until recently Dad had the body, and Mom had the mind. Now Dad's body is winding down as well.
Here's a picture of them last year when we celebrated our visit at the Steak and Lobsteer (get it?). They look pretty young don't they!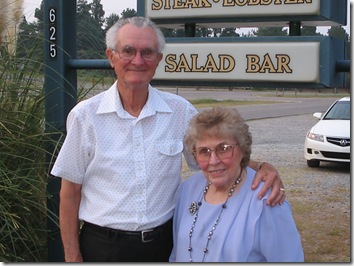 In an impromptu telephone call, my sister told Mom we were worried about her and Dad, and reiterated that we'd like them to move up to Michigan into assisted living where we could more easily help them and visit more frequently. Over the next several hours, Mom got so upset that she made herself sick for 4 days. She said we should stop worrying and that she would never ask any of us again for help. She said that if we made her move before she was ready, she'd never never never never get over it and would die of upset. She was a pip to be around after that call–swaggering independently with her walker, doing laundry, refusing any assistance, planning garden projects and weekly Sunday open house visits for their friends.
My days were spent taking them to doctor's appointments; typing up a list of contacts for them including doctors, hospitals, utilities, and friends; shopping for groceries; cooking meals; buying a new answering machine and phone set up (theirs was winding down); sorting through Mom's 50 years of clutter; and setting up a support network for them after I was gone. The systems I put in place were like shifting sand disappearing under the weight of our footprints.
Just when I thought I had Dad trained to take pills from his weekly AM/PM pill box, I watched him pick up a stray bottle of heart medicine, open it and get ready to pop a pill in his mouth. "No Dad, only take pills from the pill box!"
Before I left I showed them how to use the new phones and answering machine and Dad's automatic blood pressure machine. I went over the simple steps several times sensing that they were understanding only half of it. We had hired a morning and an evening person to come to the house–and hopefully they could help them stay safe–at least until Mom decided they were costing too much money and let them go.
More often than I would like, I wake up uneasy, with more "failsafe" ideas for their health and safety.
Because I'm a life coach, I'm looking for ways to learn from these experiences with my aging parents so that I can live a better life and help others to do the same. Over the coming months I'll be writing about these things—things that will help us live healthy, happy lives as we age. Here is my initial list of healthy aging essentials:
We need to do our best to stay strong into old age–this takes more than just day-to-day physical activity.
We need to eat nutritious food–at least 80% of our diet.
We need to minimize excesses–spending too much, eating too much, buying too many things, worrying too much.
We need to have a supportive network of family and friends.
We need to have healthy routines and habits in place.
We need to face our fears and move beyond them.
We need to have a good attitude about life.
Please share your comments. If you have insights about aging or a story about experiences with your aging parents, please click the comment link below.
Together, we may be able to make this care-giving and aging process work better for all.
Print This Post
|
5 Responses
Leave a Reply