Posted by Cheryl Miller on Mar 1st, 2011 | Leave a comment
As part of the Let's Talk About Healthy, Happy Living tele-converation series, we had a great call tonight on healthy snacking at home, at work, and on the road.  Lively discussion and some paradigm shifts.  That's what happens when people are given a chance to chat and share without an expert droning on (of course we like that sometimes too)  As a wellness expert I have to say that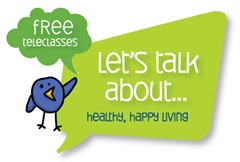 Here are a few highlights from the call:
Some people really need to snack – to keep up with their metabolism because they do better with several mini meals a day, to help them manage their blood sugar level, and/or to keep them from getting starved and eating a huge meal.
Some people really don't need to snack – they don't mind getting hungry and waiting for a good, wholesome meal.
People are all different and need different things (no matter what anybody tells you, we're all different and one size does not fit all)
Healthy snacks that can be considered mini meals usually contain a carbohydrate (fruit, grain, veggie) a protein (dairy, meat, fish, legumes, nuts, seeds), fat (from protein and dairy) and fiber (from being a whole food)
Healthy snacks can be a piece of fruit, dried fruit and nuts/seeds, hummus and veggies, a plain ol' carrot, left overs, a cup of soup…..at the end I've pasted a snippet from WebMD—20 healthy snacks.
If you stay up late, you'll probably want a "4th meal" because our metabolism (fire in the belly) heats up around 10:30 at night (plus or minus).  To avoid late night eating,  don't stay up late if you don't have to…or at least choose a healthy snack.  Get up early to help encourage you to go to bed earlier.
Your snacks can make or break a healthy diet.  Many processed snacks are very high in fat, chemicals, calories, or low quality ingredients.  Choose healthy, whole food snacks.
Healthy snacking can help people lose weight or maintain a healthy weight.  Conventional processed snacks can contribute to weight gain, stress, low blood sugar, cravings, and expensive groceries.
The next call in the series….
We also talked about how to set up healthy snack environments and a handful of other topics like what were your favorite childhood snacks.  If you missed this call from the Let's Talk About healthy, Happy Living tele-conversation series, don't miss the next call.  It's going to be about staying focused and sticking with your health and life goals—Tuesday, March 1, 7pm CT. Remember this series occurs the first and third Tuesdays of each month.   If you haven't signed up for the series yet, visit this link for more info and to sign up:  http://www.cherylmillerville.com/letstalkabout/
20 Choices 100 Calorie Snacks
To get you started on the road to healthy, calorie-controlled snacking, WebMD offers some suggestions for 100-calorie munchies:
1. Half an apple with 2 teaspoons of peanut butter
2. An orange and a few dry-roasted nuts
3. 10 cashew nuts
4. 10 almonds
5. 2 ounces of lean roast beef
6. Half a small avocado
7. 3 ounces cooked whole-grain noodles with 1 fresh tomato and 1/2 ounce hard cheese
8. 1 seven-grain Belgian waffle
9. 4 mini rice cakes with 2 tablespoons low-fat cottage cheese
10. 3 ounces low-fat cottage cheese and 3 whole-wheat crackers
11. Small amount ranch dressing with mixed raw veggies
12. 6 Wheat Thins crackers with two teaspoons of peanut butter (or any nut butter)
13. 1 small baked potato with 1/2 cup salsa and 2 tablespoons of fat-free sour cream
14. 1/3 cup of unsweetened applesauce with 1 slice of whole-wheat toast, cut into 4 strips for dunking
15. 1/2 cup frozen orange juice, eaten as sorbet
16. 2 large graham cracker squares with 1 teaspoon peanut butter
17. 3 handfuls of unbuttered popcorn, seasoned with herbs
18. 4-6 ounces of yogurt
19. A 5-ounce tossed salad with lettuce, tomato, cucumber and small amount of dressing
20. Half a "finger" of string cheese with 4 whole-wheat crackers
Print This Post
|
Leave a Reply