Posted by Cheryl Miller on May 25th, 2010 | 2 comments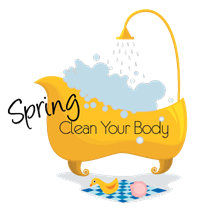 I started the spring season, March 29, with a major spring cleaning diet that was a combination of flop and success.  It was a flop because it went on too long and was too restrictive.  Remember I was avoiding caffeine, all processed foods, soda,  sugar of all kinds, alcohol, gluten, dairy, junk food, fast food…..so you see why it became difficult as the 6 weeks dragged on and on.  It was too big of a dietary leap for me to take all at once.  When I got busy or stressed, I started eating out a little more and a little more.  I prepared fewer meals at home, and then finally I quit following the program all together.  It was like I "forgot" that I was doing the program.  I bet you've been there, done that too.
It was a success, though, because I learned that it was quite easy to avoid many of the low-quality foods and beverages – a snap in fact.  I was able to eat much more cleanly than I thought I could.
Because there's still one more month of spring to experiment with "Spring Clean Your Body," I'm doing a much simpler, shorter program.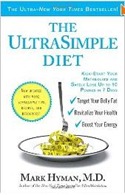 I'm on day 3 of a "preparation diet" which means I'm not eating sugar, white flour, and I'm not drinking caffeine. Now avoiding just those three things I can handle.  And I certainly can do it for one week.  After the preparation week, I'm going to follow a healthy eating, detox program described in The UltraSimple Diet book by Mark Hyman, M.D.  I'm a big fan of his philosophy, scientific methods, and programs.  He's written many books and is a popular television personality.  For 20 years he was "Co-Medical Director at Canyon Ranch Lenox, an internationally acclaimed health resort where he combined the best of conventional and alternative medicine with a blend of science, intuition, integrity and compassion."
Starting this Sunday for one week, I'll follow Dr. Hyman's program for detoxing body, mind, and spirit.  In the book Hyman describes two options for participating:  basic and advanced.  In the advanced option, in addition to eating a very clean diet, the program incorporates daily yoga, meditation, journal writing, exercise, saunas, and what Dr. Hyman calls the UltraBath.  As you can see, the program will be holistic and rather demanding.  It will require that I clear my calendar that week and make a commitment to plan ahead and stick with it.
After the 6-week attempt, one week feels like a cake walk.  Oops, no cake!
Would you like to join me this week and experiment with not consuming caffeine, sugar of all kinds, and white flour?  Please provide comments at the link below.
Print This Post
|
2 Responses
Leave a Reply