Posted by Cheryl Miller on Feb 2nd, 2012 | Leave a comment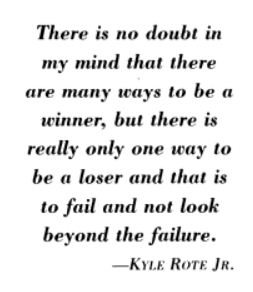 Everybody else is on Day 4 of the 21-Day nutritional cleanse.  I'm on day 1, and an imperfect 1 at that.
Still, I'm doing it.  Yay for imperfect me.  I'm Failing Forward according to John Maxwell.
An earlier version of me would have wrung her hands and worried about being behind.  I would have tried to figure out who was to blame for my not knowing that the cleanse did not start on Feb. 1.  I would have searched all my emails looking for the one I missed that told me when the cleanse started.  But I didn't.   And that's something! 
I also would have wrung my hands while shopping at the whole foods store for my supplies wanting to get the exact stuff that they recommended – no matter the cost and availability.  But I didn't.  I tuned in to my inner wisdom and shopped with comfort and peace.  That's something!
And I would have chided myself for eating something today that is not on the "yes" list.  But I didn't.  I know that I'm committed to doing a great nutritional cleanse so I'm not sweating the small stuff.  And I'm giving myself time to ramp up.
Even though I'm "behind," here's what I have done so far to take care of myself … I've completed my grocery shopping, cleaned out the fridge, opened myself up to whatever gifts are in store for me,  had a chiropractic adjustment, I've done the laundry, cleaned the kitchen, and slept as long as I wanted this morning.  I also walked Toby on the levee for over an hour.  And after I finish this post, I'm going to watch season 8 of Little House on the Prairie.  That's a good bit of self-care and I'm pleased I have the time (and am taking the time) to "show myself some love."
How are you with accepting failure, reframing failure, and using it as a stepping stone in your life?    I'm still learning to do this better, but I'm nipping at the heels of compassion for myself and others.  And that's something!
Great quotes from Failing Forward:  http://2xthework.blogspot.com/2011/03/quotes-from-failing-forward.html  Write a few on your bathroom mirror with a Sharpie or post them in your car or by your computer as reminders…..that failures can move us forward when we just keep going!
I have committed to writing a post every day as I progress through the 21-day cleanse.  Please stop by frequently or subscribe in the upper right column to receive notification when I post.
Please share your comments and failure/success experiences below at the comment link.
Print This Post
|
Leave a Reply