Posted by Cheryl Miller on May 9th, 2013 | Leave a comment
Guest Post:  Cole Millen – Cole is an avid traveler and foodie who never forgets that life's best memories are made through real life apprehension of legitimate "experiences."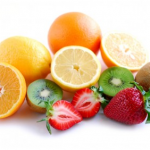 Yes, You Can Eat Healthy While on Vacation!
As much as most people enjoy vacation, some people view their vacations with considerable anxiety. Those who are focusing on eating right and staying in shape, in particular, may view vacation as a time when gaining weight is unavoidable. However, a small amount of planning can go a long way when preparing for a vacation, and there is no reason to sabotage your diet while away from home. Here are a few tips and guidelines for travelers to consider.
Eat Right While in Transit
It can be difficult to eat right while traveling by vehicle or airplane. Those traveling by vehicle can help themselves by bringing along a cooler filled with healthy snacks and drinks. Fast food is notoriously unhealthy, and a trip or two to a fast food restaurant can make it difficult to stay within your caloric threshold. Those traveling by airplane can help themselves by eating a meal before heading to the airport; in the rush to get to the airport on time, many people neglect to eat beforehand. A bit of restraint can help tremendously so make sure to avoid those restaurants that offer high fat and greasy food. Try and find a meal of grilled chicken or perhaps even a salad. Make sure to bring with you some dried fruits or nuts to snack on while on the plane of on a layover. For some reason or another we tend to want to fill our stomachs while in airports so ensuring you have these snacks will allow you to resist the urge.
Eat Healthy at Hotels
Finding the appropriate hotel and area that can cater to your healthy lifestyle is extremely important for your vacation. Doing a little research before hand to ensure that you have the amenities necessary can go a long way. I have found that review sites containing unbiased, honest information from other travelers are the best way to go. I was recently traveling out west and managed to find a hotel in Las Vegas with a gluten free restaurant from the tips in the reviews I found. Once at the hotel, many travelers find themselves overeating. One technique many travelers are using is bringing along a small crock pot or other cooking tool. A quick trip to a grocery store or health store can allow travelers to eat at least some of their meals away from restaurants. This technique can also lead to significant savings while on vacation. Travelers will also want to avoid minibars at all costs; minibars are filled with high-calorie items that can make it difficult to stay under a certain caloric limit.
Enjoy Restaurants Without Anxiety
Eating out is a crucial component of vacation, and no traveler will want to avoid restaurants entirely. One of the best ways to prepare for a trip to a restaurant is to load its menu online or to pick it up early. By determining what you will order before entering the restaurant, you can ensure that you do not go over your daily caloric intake. If you have difficulty determining how many calories are contained within particular meals, try to avoid items that contain the following words: buttered, battered, bottomless and stuffed. Restaurants are offering healthier meals than ever before, and a bit of research can help you enjoy restaurants without feeling guilty.
Print This Post
|
Leave a Reply