Posted by Cheryl Miller on Apr 6th, 2010 | 5 comments
Spring Clean Your Body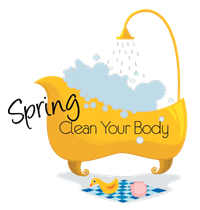 I knew there was a box lunch waiting for me for lunch at the health fair.  Those words "box lunch" clued me in that it was probably a sandwich, cookie, and chips…maybe a piece of fruit.  Bingo – that's exactly what was in  it.
Because I'm not eating processed foods, I knew I wouldn't eat anything but the fruit.  So I packed all of my own food and brought it in an insulated lunch bag.  Here's what I brought for the day:
Fruit-Rice Protein Smoothie (I drank this in the car at 7am driving to the event)
Stainless steel travel mug with green tea (remember I stopped drinking coffee…..actually I haven't missed it much and never got a headache from withdrawal).  I had experimented with green tea off and on for a couple of months and was growing used to the taste.  I stopped once or twice at convenience stores to fill up on hot water.  For some reason hot water is a satisfying beverage in the morning.
For lunch I made the same salad I had the other day – spring greens, fresh pair, raisins, jicama, walnuts, and vinaigrette.  (I took a break from the wellness fair and sat in the sun eating my salad – spa living!)  I didn't feel the least bit denied.  In fact I felt lucky and smart.
For fruit snacks I brought a tangerine, black plum, and orange.
For crunchy snacks I brought a small mix of dried fruit (fig, date, cherries) and walnuts.
Dealing with Temptation
Because I brought tasty healthy snacks (abundantly), I was not tempted one bit by the junk food all around me at the convenience store when I stopped for gas.  But just to be sure, I kept my eyes focused straight ahead. The one temptation I had on the drive home was the chips.  I wanted those chips SO bad.  Part of the problem was that I was sleepy, really sleepy.  I pulled over for a 30-minute nap at a rest stop.  That helped.  Also, I resisted those chips by remembering my goal.  And I knew that if I caved in and ate them, they wouldn't taste as good as I thought they would, and I would have started down the slippery slope which I had no intention of doing.  Feeling virtuous feels a lot better than feeling disappointed in myself.  Having a powerful, clear goal makes all the difference.  And of course the goal has to be backed up by lots of planning and preparing.
How do you handle eating on the road?  Please comment at the link below this post.
Print This Post
|
5 Responses
Leave a Reply