Posted by Cheryl Miller on May 10th, 2010 | 5 comments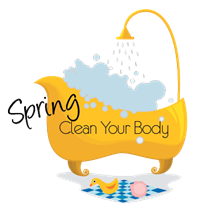 While you're spring cleaning your body, you might also spring clean your home.   I think there's a connection between how we take care of our bodies and how we take care of our homes.   Our homes are much like our bodies – they are the protective skin around us. 
What have you done lately to take care of your home (apartment, mobile home, house boat, RV, tent, TP, etc.)? 
I've been doing a major spring cleaning the last month so this topic is on my mind.  Let's see if we can draw some parallels between spring cleaning our bodies and our homes.
| | |
| --- | --- |
| Spring Clean Your Body | Spring Clean Your Home |
| Detox (stop drinking and eating things that are bad for you). | Declutter (get rid of your ex-boyfriend's gifts, things you think are ugly, things that are broken, cracked, or chipped).  I once had 45 belts.  Now who needs that many belts….besides an accessory shop.  I still have a lot of vases…but I LOVE them. |
| Eat nutritious foods. | Keep only things you love and use.  Cast a glance at the furnishings and accessories you love and let them nourish you.  Enjoying what you have is one of life's simple pleasures. |
| Hydrate your body.  Take baths, showers, saunas. | Get out the mop bucket.  You'll get an even better workout if you mop on your hands and knees.  Yes sister!  And brother!  |
| Take appropriate supplements. | Check your accessories (add and subtract) until you have a pleasing outcome. |
| Have a well-rounded fitness program. | Clean  your house top to bottom and work in the yard.  There IS no better exercise.  It's called the Earth Gym – where your life IS your workout. |
| Invite friends or family over for a healthy breakfast, lunch, or dinner. | Having company blesses your home and gives them a chance to compliment you on your hard work.  It also gives you a deadline to work towards.  Without a deadline, I just watch movies, read email, and twiddle my thumbs. |
| Get good rest and sleep. | Take time off from cleaning and yard work (and other kinds of doing).  Just sit on the deck or patio and do some being. |
| Practice deep breathing. | Open the doors and windows and bring fresh air in—even if it's chilly outside.  A bit of fresh air is revitalizing and good for you….and your house. |
| Thank your body. | Thank your house. |
What did I miss?  What other comparisons can you see?  Add them at the comment link below.
Print This Post
|
5 Responses
Leave a Reply