Posted by Cheryl Miller on May 3rd, 2010 | 8 comments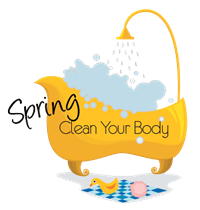 I walked Toby on the levee this evening in my garden clogs and that was not a good idea.  About a mile in to the walk, the shoes rubbed a blister on the top of my foot.  Ouch.   I didn't have any socks or a Band-Aid so I decided to head back rather than tough it out.  Ouch ouch ouch.  It really started getting raw and sore.  In a stroke of genius, I decided to try putting my shoes on the opposite feet like 3 year olds do.  And it worked.  The shoes did not rub me in the same spot so I was able to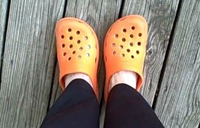 walk more comfortably.  But, Crocs on the wrong feet is not a good look.  Although there was no one on the levee at the time, it occurred to me that someone could come along and think I was a little strange – just judging my weird shoe behavior. 
I scanned my ego to see how I'd feel about being seen with my shoes on the wrong feet.  I should say with orange shoes on the wrong feet.  I decided to just keep walking and see how it went.  If I saw somebody like Brad Pitt or Robert Downey, Jr. I'd swap them back in a heart beat.  But those guys never walk on the Kansas levee so I figured I wouldn't be too embarrassed no matter who approached. 
Then the test.  I saw two people walking in the distance with a small dog.  As they approached we talked about the dogs and they never looked at me or my weird shoes.
In my mind I was giving myself points for walking, subtracting points for wearing shoes that hurt my feet, adding points for coming up with the switching feet solution, subtracting points for worrying about what others thought, and adding points for keeping them on the wrong feet when the other walkers approached me.  It was a fun little game.  I love dog people – they focus their entire attention on dogs.  You can get away with murder – even wearing orange Crocs on the wrong feet.
Have you got any odd or interesting stories to tell about your life that made you be creative, relax, or accept yourself?
Print This Post
|
8 Responses
Leave a Reply