Posted by Cheryl Miller on Apr 29th, 2010 | 2 comments
Spring Clean Your Body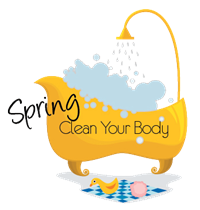 "We are here for a higher purpose – and when our passion and focus are unshakably on the target, we can achieve against all odds."
2008 NFL Hall of Fame-Nominated place kicker
Nick Lowery
When you've had a tough day and you want a candy bar or a beer, remember your goal.  What choice will bring you closer to your goal?  When our goals are clear, this kind of choice is easier.  When our goals are fuzzy, our default is to go for comfort and immediate gratification.  Being clear about our goals makes success possible.
Get out a piece of paper and write your goal on it.  Be as specific and clear as you can be.  What do you want, why do you want it, how will you achieve it, and how will you feel when you achieve it (or when you don't).  And then write what your most likely obstacles will be and what you will do when each of them surfaces…because they WILL surface.
Because I'm a wellness practitioner, one of my goals is to walk the talk.  I want to be the picture of health and wellness, and I want to be able to say "follow me, I'm practicing good health and wellness behaviors."  If l say one thing and do another, what help am I to you?  Since my passion is to help people live healthy, happy lives…in this lifetime, I need to be on that path myself.  Having a clear goal, taking action, and staying focused on the benefits is my 3-step plan for success.  I'm not always 100% successful, but this goal keeps me moving forward.
What is your plan for success?  What keeps you on the path?  Share your thoughts at the comment link below.
Print This Post
|
2 Responses
Leave a Reply