Posted by Cheryl Miller on Apr 27th, 2010 | Leave a comment
Spring Clean Your Body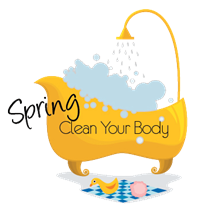 Thirty-one days ago I invited blog readers to join me in a 6-week blog series called Spring Clean Your Body.  Now, I want to welcome new readers and give you a quick review of where we started and where we're going.  You can also begin the series by scrolling down to read Day 1, 2, 3, etc.
After being cooped up over the winter months, eating richer winter foods and laying on an extra layer of fat, I thought it would feel really good to do a 6-week body cleanse.  I've been writing about my experiences in this series.
Here's a quick summary of foods and beverages I have decided to avoid for at least 6 weeks:
Processed, packaged foods
Coffee
Sweets
Gluten
Dairy
Alcohol
If this sounds challenging, you're right.  It has been.  I need more practice—that's why I'm extending the series beyond the six weeks until the end of spring.
I was inspired to do this cleansing program by Dr. Mark Hyman's books, The UltraMind Solution and UltraMetabolism.  He practices functional medicine which means he looks at the entire body, not just body parts or a single system, to determine how the entire body is functioning.  Dr. Hyman recognizes that everything is connected to everything.  If one part of the body isn't working, other parts of the body are affected.  In fact, all parts of the body are affected.  I highly recommend these books if you're interested in taking this body cleanse thing seriously.
Diet, exercise, quality sleep, stress management, and self-care are all critical components of living a healthy, happy life.  So all of these topics will be addressed in this series.   I'll share my personal experiences as well as tips and tricks that may help you with your own body spring cleaning project.
I invite you to freely share your comments and experiences at the comment link below.  And if you have specific topics you would like me to cover, please let me know those as well.
Print This Post
|
Leave a Reply