Posted by Cheryl Miller on Mar 31st, 2010 | 7 comments
Spring Clean Your Body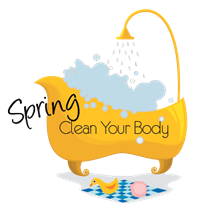 It seems we're always interested in what people eat when they're on a healthy living plan.  Coming up with ideas that aren't fast food, packaged, full of sugar and white flour kind of boggles the mind.  So periodically I will let you what I've been eating, how I prepared it, and the "recipe."  I put that word in quotes because I usually just make stuff up when I cook.  I rarely measure.  That's why this kind of cooking is good for me – it's fast!  And it tastes good too.
Here's what I ate today…..hope it gives you some ideas.
Brunch (I slept in!)
Stir fried veggies and egg (fast and delicious for breakfast, lunch, or dinner)
Pour a bit of olive oil in a small skillet – use medium heat
Sautee one clove of garlic (optional) and add veggies according to the length of time needed for cooking. I prefer my veggies to be tender-crisp.
I add a couple shakes of Italian spices, red pepper flakes, salt, and pepper to the oil and garlic…then the veggies.
Use whatever veggies you have on hand. Compatible veggies include, but are not limited to, green onions, red/yellow onion, spinach, asparagus, red-green-yellow peppers, cooked cubed potatoes, mushrooms (any kind).  [What other ideas do you have?  Tell us at the comment link below]
Here's the order I would add veggies to the oil and garlic:
Asparagus (1 stalk) and mushrooms (2 button)
peppers and cooked potato cubes (I didn't include these veggies in mine)
spinach and green onion (handful of spinach and one green onion)
2 eggs whisked in a small bowl (I use a tea cup)
It's FAST! The whole cooking process takes about 6 minutes – don't over cook it (or over think it). It's just veggies and eggs – scrambled in whatever order makes sense to you. Find your own special combination and share it with us at the comment link below.
For Dinner
I've been doing a lot of stir fries lately and to keep from getting bored with healthy food, I'm switching it up tonight. I'll have hormone antibiotic free steak (4 oz), sautéed garlic and asparagus (crisp), and a mixed spring green salad with fresh pairs, walnuts, raisins, jicama, and a vinaigrette dressing.  BTW it was great!
NOTE:  If you buy lean meat, you can slice it thin and flash fry it (just about 1 mintute) and it will be more tender.  The longer it cooks, the tougher it gets.
Today's Fitness Routine
I walked Toby on the Kansas River for an hour and a half.  Felt great.  We kept up a good pace and were the only ones out.  I start to get possessive of that walking trail…..
Your turn – Thoughts about today's post?  How is your program coming?  Tell us what you did today on your Spring Cleaning Program….
Print This Post
|
7 Responses
Leave a Reply