Posted by Cheryl Miller on Apr 23rd, 2010 | 3 comments
Spring Clean Your Body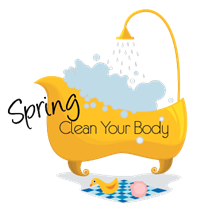 I took the day off so I indulged in reading for several hours while sipping hot green tea.  I never thought I'd be a green tea drinker.  As I'm getting used to it, it tastes better and better.  Knowing that it's also really good for me adds an additional incentive to stick with it.
It's really reinforcing to me to notice improvements in my body, mind, and spirit while doing this body spring cleaning project. 
Here are a few things I'm noticing:
I used to sweat quite a bit.  But in recent years, I rarely sweat – it sounds good, but it's actually not a sign of good health.  In the sauna today, I sweated a good deal which shows my health is improving.  I was very happy!
Also, when I stick to my whole foods diet, I do not crave sweets, junk food, or fast food.  When I stray from whole foods, a whole host of cravings kicks in.  Every day that goes by that I don't crave low quality foods, I am happy and try to acknowledge it as a sign of success.
With a clean, whole foods diet, my processes of elimination work perfectly, as intended.
After a day of taking good care of myself, I feel good about myself.  Quietly pleased.
When I'm really on the wellness path, I get new ideas for ways to take better care of myself.  When I'm on a worseness path, i get more ideas for ways to take worse care of myself.  I like the wellness path better.
My mood is definitely elevated when I eat whole foods and stick to my healthy living plan:  healthy diet, exercise, stress management, and good self-care.  It takes a little time to do these things but the payoff is exponential.
How is your Spring Cleanse going?  Any news to report?  Any new signs of health and healing? Click the "comment" link below and share your experiences.
Print This Post
|
3 Responses
Leave a Reply