Posted by Cheryl Miller on Apr 20th, 2010 | 4 comments
Spring Clean Your Body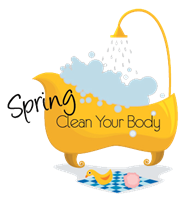 This weekend I was introduced to an interesting egg salad filling with avocado.  You may think that you shouldn't eat avocados because they're high in fat and therefore high in calories.  The calories are good calories, though, because avocados are nutrient dense and are a high quality fat.
I made a good guess about what to put in the batch I made tonight.  It's very tasty, and I thought you'd like to make it too.  You can make substitutions according to foods  you have on hand and your personal preferences – I've made several recommendations for substitutions.
Avocado and Egg Salad

3 or 4 hard boiled eggs (sliced or chunked)

1 avocado (peeled and diced in large chunks)

1-2 scallions rough chopped

Dressing

2-3 Tablespoons Mayonnaise or Nayonaise (made with soy)

Stir in a little milk, soy milk, or almond breeze (almond milk) to make it a little thinner.  I used Almond Breeze.

A tablespoon of spicy brown mustard (or any kind of mustard, or no mustard)

Salt and Pepper to taste

I'm planning to eat mine on gluten free crackers (Martha's Gone Crackers), on celery sticks, and as a side dish with my salad.
If you make this, let me know how it turned out and if you made a different version (comment at the link below).  I think you could go crazy substituting and making several different versions.  If you don't go too crazy, even kids would like it.
Print This Post
|
4 Responses
Leave a Reply