Posted by Cheryl Miller on Mar 30th, 2010 | 1 comment
Spring Clean Your Body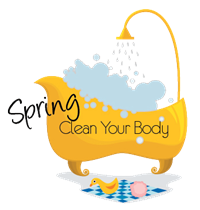 Ugh – that's how I often feel before starting a big home project – like cleaning out my pantry this past Sunday.  I have thoughts.  Thoughts about how difficult it will be to decide what to keep and what to throw out…..thoughts about how dusty the shelves are and how could I have let that happen, thoughts about do I really have time for all this healthy eating, etc.
The best way for me to counter these thoughts is to just step up to the pantry and take a can off the shelf and set it on the counter.  This small step (this beginning) sets up a chain reaction.  I take another can off the shelf, then another and another.  I start to get into a rhythm.  I talk gently to myself "it will be OK, you can make these decisions, it isn't that hard, if you throw something out that you should have kept, big deal, it's going to feel great when it's finished.  This gentle purring keeps my mind busy while I take action.  Stroke the task….and it will purr…..and it will get done.
Another secret to success is to remind myself of why I'm cleaning out the pantry in the first place.  My big objective is to prepare for my 6-week healing program–Spring Clean Your Body.  I can't think straight when things are a mess.  So before every big goal or project, I clean things up.  Since my big project is to spring clean my body, it makes sense to clean up everything associated with that – my pantry, my fitness regimen, my weekly menu, my grocery list, and more.
I needed to set up a system of tracking my success and my challenges.  Today, I tackled that piece of the prep.  I now have a journal (lovely, lovely journal) ready to record my deepest thoughts (you don't get to see that!)  And I am preparing a daily check sheet of all the things I'm doing day to day to stay on track.
Let's see what else needs to be done to be prepared for this life-changing 6 weeks?  Yes, I want to stay on top of cleaning.  Dirt and messes set me up for negative self-talk so I'm focusing on spring cleaning my body and my home (and my car).
As they say "all things look better after a good night's sleep."  To maintain a good mood and deep healing, I am also setting a bedtime range (10 – 11pm) so I'm sure to get enough sleep.  I know there's more.  What else?  Oh yes, deep relaxation.  I always forget about deep relaxation.  As my friend Lena says, "There's work to be done."   I need to develop a plan for relaxation – the UltraBath will be on the list for sure.  More on that later.
What kind of preparation are you making for your Spring Cleaning project?  Tell us at the comment link below this post.
Next Post:  What I've been eating for breakfast, lunch, and dinner  including the "recipes"
Print This Post
|
One Response
Leave a Reply