Posted by Cheryl Miller on Apr 11th, 2010 | 2 comments
Spring Clean Your Body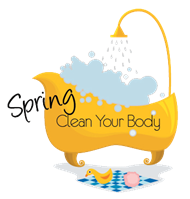 Recently, I celebrated my birthday.  Birthdays and holidays present special eating challenges.  There are family celebrations featuring a host of temptations—abundant food displays, high fat options, desserts, expectations, etc.  Thankfully, for my birthday there was no birthday cake.  In fact, the friends I usually celebrate with were out of town so I did not have a lot of temptations.  But I noticed that eating out several times this week, even selecting the healthiest options on the menu, activated food cravings.  I've been doing so well I thought I had escaped the cravings.  Not so much!
Besides eating out a couple of times, I've also gotten less sleep than I need.  My mother called for my birthday and we talked until past 11am.  The alarm woke me at 6am … I was tired and ready to roll over.Sprin
As you have probably heard from the recovery field, it's not a good idea to get Hungry, Angry, Lonely, or Tired (HALT) and I was 3 of the 4.  To recover and regain my balance, I went to bed the next night at 8:30 to read and fall asleep early.  You've heard that life looks much better after a good  night's sleep.
What do you do when you have cravings?  Do you cave in?  Distract yourself?  Go to sleep?  Tell us at the comment link below.
Print This Post
|
2 Responses
Leave a Reply