Posted by Cheryl Miller on Apr 8th, 2010 | 3 comments
Spring Clean Your Body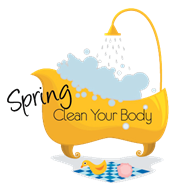 If you travel a lot (or bring your lunch to work) these handy food containers can be just the ticket.  A friend just clued me in to them.  They're unbreakable so they'd be good food containers for kids too – especially on vacation.  The ones shown below have been customized by companies who purchased them for employee giveaways (great idea!)but they're the Aladdin brand.  I haven't done a search on the internet to compare prices but I found some good prices – listed below.    You can also check Amazon.com and Tuesday Morning.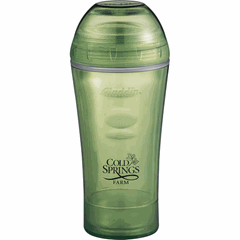 Aladdin Chill & Go – You can fill this container with salad or other raw veggies.  The description says that the double-wall insulated polycarbonate container keeps food cold for up to four hours.  And the lid doubles as a salad dressin180g (or hummus) container with additional screw off compartment.  This little baby is going into my lunch box!  If you fly, you can get this through security because the salad dressing compartment holds just three ounces.  http://www.hotref.com/Aladdin-Chill—Go-p-3065.html
$11.25  Chill & Go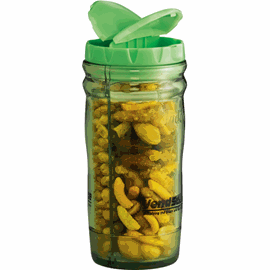 Aladdin Snack & Go – Here's another neat snack container.  Load it up with nuts and seeds, dried fruit, or any other dry food.  It has a removable divider  so you can fill it up with either one or two snacks (great for your desk drawer or the snack pack when you travel).  The pull-off lid has two openings so you can dispense separate snacks.
http://www.hotref.com/Aladdin-Snack—Go-p-3064.html
$ 6.10  Snack & Go
Can you think of any other uses for these handy food containers?  Do you have any travel food containers to recommend?  Comment at the link below.
Print This Post
|
3 Responses
Leave a Reply