Posted by Cheryl Miller on Apr 22nd, 2011 | 1 comment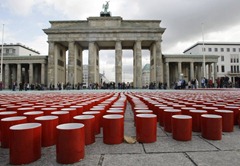 In Lawrence, KS the earth is enjoying a gentle rain.  And I'm enjoying relaxing into the day with a slower pace than usual–expanding into the delight of a day off.
What are you doing to celebrate Earth Day today? 
For a peek into how you can have sustainable Earth-friendly habits, check out an interview Christine Metz from the Lawrence Journal World did with me last night.  Find out why these red coffee mugs are in this picture. 
Print This Post
|
One Response
Leave a Reply