Posted by Cheryl Miller on Sep 12th, 2010 | 2 comments
Learn How to be More Zen in 2010 – A new telecourse, my treat!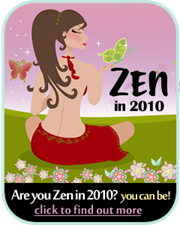 Are you an aspiring neatnik but just can't shake your packrat ways? Have you vowed (once again) to get on top of your messy situation but can't quite get there?
I know how you feel.
Yet, I do get inspired…
In honor of National Garage Clean up Day (it was Saturday if you didn't know) I've swept the garage, organized the recycling, and taken the giveaways to Goodwill.
And you know what? Today I'm looking forward to spending a relaxed and calm Sunday, just puttering and pondering, and enjoying the fruits of my labor (sitting in the lotus position, of course).
Can you imagine how good it feels to have clear spaces, tidy shelves, and organized cabinets and drawers? Well, I'd have to say, it's Zen-like. Add in the sunny 70-degree weather and plenty of time for watching the world go by on my front porch, and I'd say this is going to be a perfectly lovely day.
Do you need a little extra oomph when it comes to something like cleaning up your garage, organizing your closets or dealing with all those "someday" projects? Do you want to be Zen in 2010?
All you really need is a little inspiration. And a few secret weapons. I want you to be Zen in 2010 so I've picked the date for a lively, interactive telecourse (my treat)!
Mark your calendar for Thursday, September 30 (5pm PT, 6pm MT, 7pm CT, 8pm ET).  Click here to learn more.
Print This Post
|
2 Responses
Leave a Reply