Posted by Cheryl Miller on Sep 16th, 2010 | Leave a comment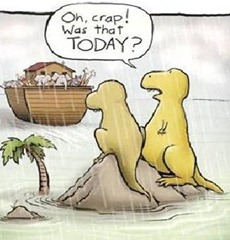 How dinosaurs became extinct—one theory
Running late is not very Zen.
Sometimes I plan to be late, but when I want to/need to show up on time, it's easy for me.  Don't be jealous.  I came by this in an unpleasant way.
Every Sunday when I was a kid my dad would polish the headlights on the car while waiting for my mother to come out so we could go to church.  My sister was late too.  He was upset and impatient every Sunday, for years.  He'd honk and grouse as I sat nervously in the back seat vowing to always be on time—and for the most part, I've kept my vow.  I saw first hand, week after week, the stress effects of being late (and of being impatient).  My dad wasn't right about pacing and frothing at the mouth, but I understood it. 
In the spirit of full disclosure, here's what I do when I choose to be late:
I plan one more thing I want to get done before I leave for the event/date/appointment.
I "forget" what time I'm supposed to be there or I forget to check for directions.
I know what time I'm supposed to be there but think what I'm doing is more important than what somebody else is doing (the one who's waiting for me).
I lose my keys or notebook or cell phone so I have to spend time looking for things. 
If you see yourself in this list, here are a few things you can do to be on time (if you want to change).  Just do the opposite of the list above.
Instead of planning one more thing to do, head off to the meeting or appointment – early!  Gasp!
Keep a calendar (electronic or paper) of all of your commitments so you'll know when you have engagements.  Check the calendar at the beginning of the day so you know what's up ahead.  I also scan the week ahead so I have a sense for how busy or available I'll be so I don't overbook.
What I'm doing is really important.  But what my friend, colleague, boss, dentist is doing is really important too.  If your friends and family and dentist are important to you, it might be a worthy goal to work on being on time. 
Being organized helps.  If you have a special hook where you hang your car keys, you've got a planning system, and you don't overbook, you should be good to go (and be on time) . 

If  you'd like help being more Zen in life, check out a free teleclass I'm offering Thursday, September 30 at 7pm CT.  Would be great to have you join us: 
http://www.cherylmillerville.com/zen/teleclass-registration
Print This Post
|
Leave a Reply