Posted by Cheryl Miller on Jul 30th, 2008 | Leave a comment
It's always easier to talk about somebody else's discipline.  That's true for me too.  Now that I've got Toby (24 hours now and counting), I want to talk about his discipline
  Actually, I just want to talk about him period.  Having him is better than having a shiny new car. 
Toby is a fabulous dog.  He needs a little more discipline, but who doesn't?  He looks like a couch potato here, but don't let him fool you.  He's 50 pounds of pure buoyant energy.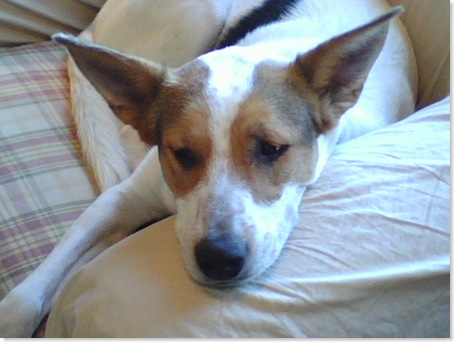 We took another walk tonight–but this time I had the right training tools (collar and leash) so I could teach him to heel, turn, stop, come, etc.  It didn't take very long before he was doing everything right along with me.  His performance wasn't perfect, but it was amazingly improved from our walk yesterday when he tried to drag me along behind him.  Does he look like a sled dog to you?
He's also learning the "house rules."   Whether we're talking about children, adults, or pets, having clear rules makes everybody's life easier.  And the rules have to be enforced consistently–even if it is frustrating, hard, and doesn't seem like it's making any difference. 
It takes discipline to create discipline.  Can you tell I'm giving myself a pep talk here
  Actually, I'm having a lot of fun working with Toby.  My German Shepherds were so easy to train that my training skills got rusty.  It's been fun seeing that the training I received years ago still works and works well.  I'm becoming the Toby whisperer.  And he's whispering back! 
Pssst!  The good news is, we both took a walk–now that's discipline!
Print This Post
|
Leave a Reply